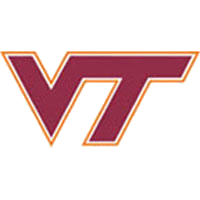 Duke Johnson ran for 249 yards, the Miami defense held Virginia Tech scoreless until the final two minutes, and the Hurricanes dominated the Hokies in a 30-6 win in ACC football action in Lane Stadium in Blacksburg, Va., Thursday night.
Only a fourth-down touchdown pass from backup quarterback Mark Leal to Isaiah Ford with 1:30 to go kept the Hokies' streak of scoring in 251 consecutive games alive. Aside from that lone highlight, this one was a rare Lane Stadium beatdown for Virginia Tech (4-4, 1-3 ACC), which trailed 24-0 at halftime and fumbled on three possessions in Miami territory in a frustrating third quarter that sent the home fans home early.
A pair of second-quarter Johnson touchdowns provided the separation for Miami (5-3, 2-2 ACC), the first a 24-yard run with 6:21 to go that pushed the um lead to 17-0, the second serving as the backbreaker, a 22-yard TD pass from Brad Kaaya with three seconds left that made it 24-0.
The Hokies drove inside the Miami 5 on their opening possession of the second half, but Marshawn Williams, fighting for the end zone, fumbled at the 2, and Miami recovered to snuff out that threat.
Virginia Tech forced a Miami punt and took possession inside 'Canes territory, but Joel Caleb fumbled at the Miami 32 after taking in a Michael Brewer pass. A Jerome Wright fumble at the Miami 17 later in the quarter was the Hokies' last scoring threat before the garbage-time TD in the final minutes.
Miami gained 456 total yards, 364 on the ground, while holding Virginia Tech to 262 total yards, 82 coming on the final drive.
The loss was the third at home for Virginia Tech this season, the first time the Hokies have lost three at home in a season since 1992.
The late touchdown preserved a scoring streak that dates back to a 16-0 home shutout loss to Cincinnati in 1995.