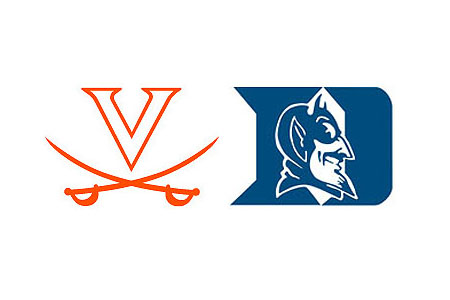 The No. 6 Virginia (8-4, 0-4 ACC) men's lacrosse team dropped its ACC finale at No. 7 Duke (8-4, 1-3 ACC) on Sunday afternoon, 15-8, inside Koskinen Stadium.
"I thought Duke played well and with some confidence," said Virginia men's lacrosse head coach Dom Starsia. "I thought they exposed us a little bit with our inexperience at the defensive end of the field. In that second quarter we had too many turnovers, mostly at the offensive end of the field. I thought we were fighting them on defense. I thought we were getting enough stops that way, but we just had too many empty possessions on the offensive end. We just seemed rushed all of a sudden. The game sort of turned right there at that period (second quarter)."
Goals by Tyler German and Greg Coholan staked UVa to an early 2-1 lead over Duke with 6:44 left in the first quarter. Duke rattled off a 4-0 run to take a 5-2 lead and never looked back. Jack Bruckner scored his fourth goal of the game to cap the run with 8:37 left in the second quarter.
Coholan scored his second goal of the game for UVa at 6:57, but Duke scored back-to-back tallies to take a 7-3 lead into the intermission. Bruckner scored his fifth goal of the game to cap the run with 3:08 left in the second period.
Owen Van Arsdale scored the first goal of the third quarter at 10:45, cutting into the Duke lead, 7-4. Duke retaliated with a 6-1 spurt to jump up to a 13-5 advantage with 13:18 left in the game. Bruckner capped the Duke run with his seventh goal of the game.
Virginia finished the game on a 3-2 run behind two goals from Zed Williams and one by Coholan, but it wasn't enough for the Cavaliers.
Duke won the battles of shots (51-36), ground balls (41-23), faceoffs (14-13) and saves (18-17). UVa had more turnovers (17-15), including nine in the second quarter.
Coholan led the way for UVa with three goals, while German and Williams each scored two. Bruckner led Duke with seven goals, while Deemer Class added three scores.
UVa returns to action on Saturday when No. 17 Georgetown comes to Klöckner Stadium for Senior Day. Faceoff is set for 1 p.m.