Gov. Bob McDonnell today announced the membership for the newly-created Task Force on Improving Mental Health Services and Crisis Response. The membership includes leaders in the mental health field, law enforcement communities, the judicial system, private hospitals, and individuals receiving mental health services and their families. The group will review existing services and challenges in Virginia's mental health system and make recommendations, including legislative and budget proposals, for critical improvements to mental health procedures, programs and services.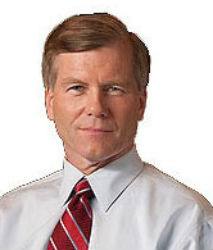 Speaking about the taskforce and its membership, McDonnell said, "We must ensure that people experiencing mental health crises are connected immediately to needed services to help ensure their safety and the safety of those around them. It is critically important that we expand existing mental health treatment services as needed in order to help prevent mental health emergencies from happening. This task force brings together experts on mental health services from a variety of perspectives. I am thankful for Secretary Hazel and Secretary Rhode for their invaluable leadership of this effort, and to all of the task force members who have agreed to examine these important topics, and I believe they will develop recommendations that can be used to make a real difference for Virginians with serious mental health issues and their families. I am pleased that Governor-elect McAuliffe has stated he will issue a similar Executive Order continuing the Task Force during his administration."
On Dec. 10, McDonnell issued Executive Order 68 establishing a multidisciplinary task force to seek and recommend solutions that will improve Virginia's mental health crisis services and help prevent crises from developing. The task force will send initial recommendations no later than January 31, 2014. It will make additional recommendations on an ongoing basis and provide a final report on all aspects of the executive order to the governor no later than October 1, 2014.
The Task Force will hold its first meeting on Jan. 7 at 1 p.m., in the Patrick Henry Building in Richmond.
Governor's Task Force on Improving Mental Health Services and Crisis Response
Co-Chairs
The Honorable Bill Hazel, MD, Secretary of Health and Human Resources
The Honorable Bryan Rhode, Secretary of Public Safety
Members
The Honorable Kenneth Cuccinelli, Attorney General of Virginia
The Honorable Cynthia D. Kinser, Chief Justice of Virginia Supreme Court
The Honorable Rob Bell, Virginia House of Delegates
The Honorable Joseph Yost, Virginia House of Delegates
The Honorable Emmett Hanger, Senate of Virginia
The Honorable Janet Howell, Senate of Virginia
James Stewart, Commissioner, Department of Behavioral Health and Developmental Services
Cindi Jones, Commissioner, Department of Medical Assistance Services
Margaret Schultze, Commissioner, Department of Social Services
Colonel Steven Flaherty, Superintendent, Virginia Department of State Police
Buzz Barnett, Emergency Services Director, Region Ten Community Services Board, Charlottesville
Kaye Fair, Emergency Services Director, Fairfax-Falls Church Community Services Board, Fairfax
Melanie Adkins, Emergency Services Director, New River Valley Community Services, Roanoke
Gabriel Morgan, Sheriff, City of Newport News
John Venuti, Chief, Virginia Commonwealth Police Department, Richmond
James Agnew, Sheriff, County of Goochland, Goochland
Mike O'Connor, Executive Director, Henrico Area Community Services, Henrico
Chuck Walsh, Executive Director, Middle Peninsula-Northern Neck Community Services Board, Saluda
Jeffrey Lanham, Regional Magistrate Supervisor, 6th Magisterial Region
Daniel Holser, Chief Magistrate, 12th Judicial District
Bruce Lo, MD, Chief, Department of Emergency Medicine, Sentara Norfolk General Hospital, Norfolk
William Barker, MD, Emergency Medicine, Fauquier Hospital, Warrenton
Douglas Knittel, MD, Psychiatric Emergency Services, Portsmouth Naval Hospital, Portsmouth
Thomas Wise, MD, Department of Psychiatry, Inova Fairfax Hospital, Falls Church
Ananda Pandurangi, MD, Virginia Commonwealth University, Richmond
Cynthia McClasky, PhD, Director, Southwestern Virginia Mental Health Institute, Marion
Scott Syverud, MD, Vice Chair, Clinical Operations, University of Virginia School of Medicine, Charlottesville
Joseph Trapani, Chief Executive Officer, Poplar Springs Hospital, Petersburg
Ted Stryker, Vice President, Centra Mental Health Services, Lynchburg
Greg Peters, President and Chief Executive Officer, United Methodist Family Services, Richmond
Teshana Henderson, Chief Administrative Officer, NDUTIME Youth & Family Services, Richmond
Becky Sterling, Saluda
Ben Shaw, Fredericksburg
Rhonda VanLowe, Fairfax
Tom Spurlock, Roanoke