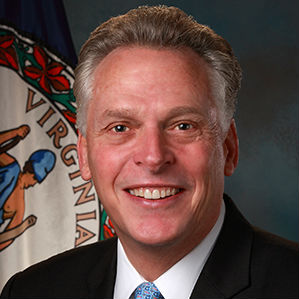 Governor Terry McAuliffe announced today that the Fiscal Year 2017-18 budget he will introduce on December 17 will invest $50 million to attract more customers and airlines to do business at Dulles International Airport. The funding will increase Dulles' competitiveness by reducing the cost per customer for airlines flying in and out of the airport.
"Dulles Airport is one of Virginia's premier economic assets, and this critical investment will make it even stronger," said Governor McAuliffe.  "This funding will help support 45,000 direct and indirect jobs related to the United Hub at Dulles and encourage other carriers to provide enhanced air travel offerings.  By reducing costs to carriers at Dulles we can bring more air travel business to the region and take another step forward in our efforts to build a new Virginia economy."
While Dulles has seen growth in international travel, domestic hub travel has decreased.  Fewer people are changing planes in Dulles because the cost per customer has increased over what other large airports charge, making Dulles less competitive in attracting domestic airline travel.
Transportation Secretary Aubrey Layne added, "Flyers demand choices in their travel.  When they buy a ticket, it's based on the best options and cost available. This investment will help to decrease Dulles Airport's costs.  Lower costs lead to better choices and increase the airport's ability to offer the best travel options.  That's good for travelers and Virginia's economy."
On December 17th Governor McAuliffe will introduce his FY 2017-2018 budget to the money committees of the General Assembly. The Governor's budget is focused entirely on smart investments in priorities that contribute directly to growing and diversifying Virginia's economy.
For more background information, go to the Virginia Commercial Air Service Strategic Review posted on www.doav.virginia.gov.