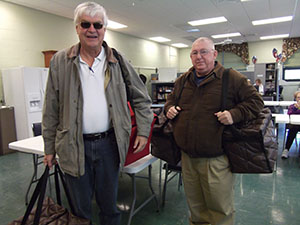 Every year the Senior Centers in Waynesboro and Staunton participate in the national Mayors for Meals Day sponsored by the Meals on Wheels Association of America. On a designated day in March, hundreds of local government officials across the United States deliver Meals on Wheels in conjunction with their local Meals on Wheels organization. March for Meals Day 2013 was March 20. This program is a great opportunity for local officials to serve and converse with meal recipients directly and a great way to showcase one of the most utilized services the Centers provide.
In Waynesboro, Mayor Bruce Allen and city councilmen Frank Lucente delivered meals with volunteers from Waynesboro Senior Center.  We appreciate our local government officials taking time out of their busy schedules to participate in this annual event.
More online at www.WaynesboroSeniorCenter.org.