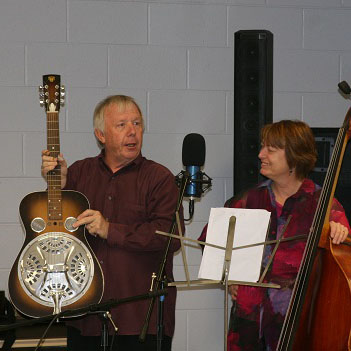 The marvelous and energetic singing duo and husband and wife team of Don DePoy and Martha Hills, better known as "Martha & Me," visited and entertained at the ERSC on March 20 in a first ever complimentary performance. Their nearly hour long performance was very much enjoyed by the 24 members, two volunteers, and twelve visitors, resulting in much hand clapping, toe tapping and dancing throughout the room.
The duo played a variety of familiar tunes, injecting lots of humor into the stories preceding them, which was met with much laughter from the audience. The quality of their performance was outstanding, and the duo indicated that they performed at over 200 venues during the past year, with many being out of the state. The duo has performed previously at our sister center—Staunton Senior Center—some time ago as well.
The instruments they used at ERSC included an auto harp, dobro, guitar, mandolin, banjo, mountain dulcimer and bass. From what was seen and heard today, it was evident that the duo LOVES to perform, whether it is for young school students as they do on most occasions, or for maturing audiences.
As the duo was departing, one ERSC member inquired of ERSC Director Lisa Gooden, "Well, how did you get them to come?" And another commented, "I bet you had to pull some strings to get them here! Well, you outdid yourself today!" Lisa explained to the members that she had been attempting to locate this "Don DePoy" fella and had called several listed in the local phone book over the years, but was always met with responses from those Don's: "Well, the name is familiar, but I don't know him…" Fortunately, the REAL Don DePoy happened to phone Lisa's home searching for her son (who is a member of the Elkton Town Council) to discuss a potential business proposition for the town. Lisa inquired a bit and wouldn't hand the phone over to her son until she was able to secure an engagement for a future, first time appearance for ERSC. After a follow up phone call and some email exchanges, a date was set just several weeks into the future. As everyone would agree, it is hoped that this will not be their last performance at ERSC!
More online at www.EastRockinghamSeniorCenter.org.