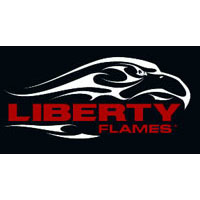 Liberty football coach Turner Gill has announced several administrative staff changes heading into the team's preparation for the 2015 season.
Kettie Fickter has been promoted to the position of Director of Player Personnel/Recruiting, while Aaron Wilkins has been hired as the Assistant Director of Player Personnel/Recruiting. Additionally, Carol Bapst has been named the program's Senior Administrative Assistant.
"Kettie has done an outstanding job in her past role as the assistant director," commented Gill. "Aaron is familiar with our program, having working with our staff as a volunteer. We are excited to have Kettie and Aaron in their new roles."
"Carol has already made herself a valuable addition of our staff since taking over her role during the spring," continued Gill. "We look forward to having these three help continue to grow our program with excellence."
Fickter is entering her second year with the program after joining the staff as the Assistant Director of Player Personnel/Recruiting in June 2014.
In her new role, Fickter will assist Gill in all aspects of recruiting, including official and unofficial visits. She also helps with the Turner Gill Football Camps, roster management, scholarships, student-athlete housing and football team finances.