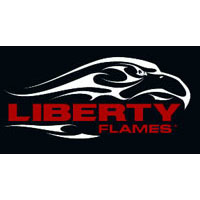 Liberty football coach Turner Gill has announced the addition of Christian Morgan to the program's roster. Morgan is a 6-4, 255-pound tight eight from Prestonwood Christian Academy in Plano, Texas. Due to NCAA transfer policies, Morgan will sit out the 2015 season and be eligible to compete for the Flames in 2016.
After graduating mid-year at Prestonwood Christian, Morgan enrolled at Ole Miss and practiced with the Rebels during spring 2013 where he suffered a knee injury. Morgan spent this past academic year at Oklahoma State (2014-15), but did not participate with the Cowboys football program.
Morgan was a four-star ranked recruit as a senior in high school and was a top-25 national tight end recruit by numerous recruiting rankings (No. 11 by Scout.com, No. 12 by Tom Lemming and ESPN.com, No. 16 by Rivals and No. 24 by 247Sports.com).
During his senior season in 2012, Rivals.com listed Morgan as the No. 55 ranked high school standout in the state of Texas.
Morgan was a converted offensive lineman at Prestonwood Christian Academy, who was known primarily for his blocking abilities. As a senior, he finished the season with 31 receptions for 497 yards and five touchdowns. He added 16 receptions for 226 yards during his junior campaign.