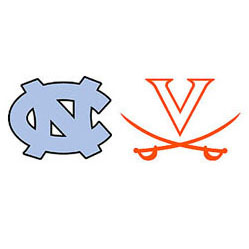 North Carolina jumped out to a 14-0 first quarter lead, and broke away with a pair of return touchdowns, en route to a 45-14 thrashing of reeling Virginia on Saturday.
UNC (4-5, 3-3 ACC) won its third straight in 2013 and its fourth straight in the series with UVa., which has now dropped seven in a row this season after a promising 2-1 start.
There was no doubt in this one. The tar heels scored at the 4:39 mark of the first on a Marquise Williams-to-Quinshad Davis 8-yard TD pass and then scored again with one second left in the first quarter on a 29-yard option pass with Davis throwing the ball back to a wide-open Williams.
Ryan Switzer returned a second quarter punt 85 yards for a score to make it 21-0 Carolina at the half, and it was 28-0 at the 12:04 mark of the third on a Williams 3-yard TD run.
Virginia (2-8, 0-6 ACC) finally got on the board with 4:53 to go in the third on a kevin parks 8-yard run. UVa. had the ball and was driving into UNC territory on its next series when quarterback David Watford was intercepted by Dominique Green, who returned the INT 62 yards for the pick six and a 35-7 lead.
Williams threw a 15-yard TD pass to Khris Francis two minutes into the fourth quarter to bump the lead to 42-7.
Backup quarterback Greyson Lambert hit Keeon Johnson on a 23-yard touchdown pass with 11:38 left to go, and a Thomas Moore 24-yard field goal for UNC at the 10:11 mark closed out the scoring.
Watford finished 14-for-30 for 129 yards and two interceptions. Lambert, in relief, was 8-for-11 passing for 75 yards and a touchdown.
Parks ran 24 times for 100 yards and a score for Virginia, which gave up 416 yards to the UNC offense and has allowed opponents to score an average of 42 points per game over the last six games.