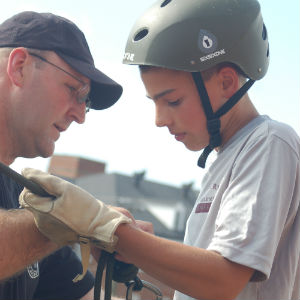 Cadets from Fishburne Military School are well into their third week of Summer Session 2016, and for some of these students will be taking their new-found skills to new heights on Wednesday when they ascend FMS' 40-foot rappel tower for the first time.
"College preparation doesn't stop at the classroom door," notes FMS Superintendent, Mrs. Susan Johnson, "our JROTC department does an amazing job with confidence-building activities such as [rappelling]. When some of these young men realize that they have conquered the challenge of the rappel tower, the pride and confidence shows through on their faces."
Fishburne's five-week summer program is primarily an academic session, but the JROTC component adds an aspect of personal development that is not found at most other summer school programs. In addition to classes, cadets learn JROTC skills like rappelling, orienteering, rope-bridge building and drill and ceremony.
As an Army Junior ROTC Honor Unit with Distinction, FMS teaches personal pride, self-confidence, teamwork and attention to detail. Fishburne has the honor of nominating qualified cadets to the United States service academies.
Fishburne Military School's Summer JROTC program is one of only four summer programs nation-wide that are fully accredited by the US Army Cadet Command.
Fishburne Military School is the oldest and smallest of all military schools for boys in Virginia. Its college-prep curriculum is built upon the structure of an Army JROTC program. FMS is designated as a JROTC Honor Unit with Distinction and may nominate qualified candidates to the United States Service Academies. Fishburne hosts one of only four Summer JROTC programs in the nation, accredited by US Army Cadet Command. For more information visit www.fishburne.org.