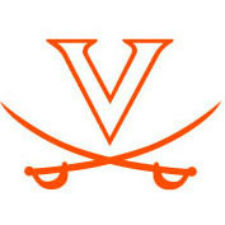 The UVa. women's basketball team (13-14, 6-8 ACC) fell 68-66 at No. 14/16 NC State (23-5, 10-4 ACC) on Sunday, Feb. 23 at Reynolds Coliseum in Raleigh, N.C.
Virginia used a 17-2 run in the second half to erase a 10-point first-half deficit, taking a 61-52 lead with 6:53remaining. After NC State tied the game on a three-pointer from Miah Spencer with 1:28 remaining, the game went through six lead changes with a three-pointer from the Wolfpack's Kody Burke with 11 seconds remaining becoming the deciding basket.
Virginia took a one point lead, 66-65, on a layup by Wolfe with 23 seconds left in the game before NC State called a timeout, setting up the Burke three-pointer. Virginia had possession in the final 11 seconds with sophomore guard Faith Randolph (Derwood, Md.) pulling up for a three-point attempt with eight seconds left in the game. The ball clanked off the front of the rim with redshirt senior guard Lexie Gerson (Fort Washington, Pa,) fighting an NC State player for the rebound as the final buzzer sounded.
"It was a tough loss," Virginia head coach Joanne Boyle said. "It was a great battle, back and forth the whole time. NC State just made a big play at the end of the second half. We didn't recover down at the other end. It was a great game."
Randolph finished the game with 15 points, four rebounds and a pair of assists. Senior guard Ataira Franklin (Bowie, Md.) scored 15 points, all in the second half, with three rebounds and a pair of assists. Gerson scored 11 points with five rebounds, four steals, two assists and a blocked shot.
The Wolfpack's Markeisha Gatling scored 22 points with 11 rebounds and two steals. Spencer scored 17 points with four rebounds, two steals and an assist.
NC State capitalized on Virginia turnovers early in the game, scoring 16 points off the miscues in the first nine minutes, taking a 21-11 lead. Gerson provided all of the early offense for the Cavaliers, scoring Virginia's first nine points on a trio of three-pointers.
Wolfe narrowed the gap late in the first half, hitting back-to-back threes with just over two minutes remaining to pull Virginia within four, 33-29. NC State went 3-of-4 from the free throw line in the final two minutes of the half to take a 35-29 lead into the break.
The Cavaliers used three-straight NC State turnovers to mount an 8-0 run, pulling to within one, 43-42 on a pull-up jumper by Randolph with 13:22 remaining, but the Pack answered with a three-pointer on the other end to retain their lead. A three-pointer by Wolfe with 10:41 remaining completed the comeback, tying the game at 50. Franklin hit a trey from the right wing just over a minute later to give Virginia a 53-50 edge. The Cavaliers capped their 11-0 run with a layup by freshman guard Breyana Mason (Woodbrdge, Va.) from a no-look pass from Gerson, giving UVa a 55-50 lead with 8:51 remaining. The Wolfpack went 1-of-9 shooting during what extended out to be a 17-2 run, with UVa leading 61-52 with 6:53 remaining. NC State chipped away at the Virginia lead at the free throw line, going a span of 7:06without making a basket, with the Spencer three ending the field goal drought.
The Wolfpack outrebounded the Cavaliers, 37-25. Virginia forced 18 turnovers while committing 16, turning the ball over only five times in the second half. The Cavaliers shot 50 percent or better in both halves, finishing the game going 25-of-49 (51.0 percent) from the field and 6-of-9 from the free throw line. NC State shot 40.0 percent from the field.
Virginia returns home for its final regular-season home game on Thursday, Feb. 27, hosting Miami at 7 p.m. at John Paul Jones Arena. Franklin, Gerson and fellow senior captain Kelsey Wolfe (Germantown, Md.) will be honored in a brief ceremony prior to tip-off of the Miami game as part of the annual Senior Day celebration.                  
Fans may purchase home game tickets through the Virginia Athletics Ticket Office online at VirginiaSports.com, by phone and in person. The Virginia Athletics Ticket Office is located in Bryant Hall at Scott Stadium and open Mondaythrough Friday from 9 a.m. until 5 p.m. Telephone purchases can be made by calling 1-800-542-UVA1 (8821) or locally at 434-924-UVA1 (8821).
Single-game ticket prices for all games are $10 for Reserved seating, $8 for adult General Admission and $6 for youth (18 & under), senior (60 & over) and UVa faculty/staff General Admission. Family Packages are available for $11 each and include a reserved ticket and a concessions voucher valued at $8. A minimum of four tickets must be purchased to receive package pricing.