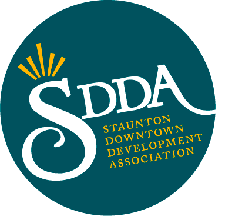 WHAT:  Kids' Night Out 2014 in Downtown Staunton will feature a combination of activities just-for-kid including giveaways, crafts, specials, free entertainment, and demonstrations scheduled all around downtown. Most activities are ongoing throughout the night, while supplies last, free, and open to the public. Classic Carriage will be providing $3 wagon rides.
WHEN: Friday, July 11 | 6pm – 9pm
WHERE: Various Locations in Downtown Staunton
Activities:
1) Staunton Parks & Rec.
Next to Blow Out Hair Studio | West Beverley Street & South Central Avenue
Activity: Flower Pounding
2) 16West by Virtually Sisters
16 West Beverley Street
Activity: 16West coworkers and affiliates hosting craft and learning activities and giveaways focused on local food and collaborative art and technology
3) Clocktower Restaurant & Bar
27 West Beverley Street
Activity: kids 12 and under eat free with each paying adult
4) Impressions Theatre
5 East Beverley Street
Activity: Inspector Clue – Balloon Animals
5) Shenandoah Pizza
19 East Beverley Street
Activity: 15% off extra large pizza *drink not included*
6) Grandma's Bait
24 East Beverley Street
Activity: magic color scratch project
7) Sacred Circle
112 East Beverley Street
Activity: handmade, fair trade children's toys and our wonderful children's books out for young people to enjoy
8) Harmony Moon
13 South New Street
Activity: Bubbles and Bugs: making bubble wands or felted bugs
9) Augusta County Courthouse
1 East Johnson Street
Activity: face painting with Mistress Rayne
10) Pufferbellies Toys & Books
15 West Johnson Street
Activity: "3-2-1 Balloon Blastoff!": appropriate for pre-school and older (Parents should accompany young children.) Free.
11) Staunton Fire Department
West Johnson Street & Byers Street
Activity: fire engine tours
At the Wharf Parking Lot:
12) Classic Carriage
Activity: $3 Wagon Rides
13) Grandmaster Dong's Studio/Head Over Heels Gymnastics
Activity: Tae Kwon Do and gymnastics demonstration
14) S.P.O.K.E.S.
Activity: bike rodeo
15) Jimmy John's of Staunton
Activity: sandwich samples and other free treats and fun stuff (Feed them well, watch them grow, and let them go!)
Roving Entertainment:
Coupons & Clappers from Domino's Pizza
Open Late:
The Split Banana, Co.
All activities while supplies last & weather permitting.
For more information contact the Staunton Downtown Development Association; call540.332.3867, or visit stauntondowntown.org.