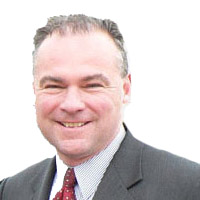 U.S. Sen. Tim Kaine joined administrators, students, and financial aid officers at J. Sargeant Reynolds Community College in Richmond today to discuss his efforts to avoid the doubling of interest rates on undergraduate subsidized Stafford loans on July 1, from 3.4 percent to 6.8 percent. Kaine is a cosponsor of the Student Loan Affordability Act of 2013 to keep student loan interest rates at their current 3.4 percent rate for the next two years.
"We are trying to come up with a solution that will allow students to continue to get the education they need to be successful in this economy without a choking amount of debt," said Kaine. "The proposal I've cosponsored would leave the loan rates right where they are by closing tax loopholes."
A longtime advocate of increasing access to higher education, Kaine told attendees that higher interest rates on subsidized student loans would cost each student an average of $1,000 each year. More than 179,000 Virginia students, including more than 3,000 students at J. Sargeant Reynolds Community College, would be impacted by the rate hikes on new loans.
With historic levels of student loan debt in the Commonwealth and across the country, Kaine told students and administrators that increased interest rates would unacceptably burden students and create greater barriers to their economic success.
"The amount of debt definitely affects the country because you talk to students all the time who say the more debt they have out of college the longer they will delay buying a car or their first home," said Kaine. "We know that purchasing homes and automobiles are good for our economy but if an entire generation delays buying their normal first purchase by three or five years or even longer, that has a significant impact on our economy."
Kaine has long argued that increased access to post-secondary education – including vocational, and technical programs – is critical to the success of Virginia's economy. As governor, Kaine made significant investments in higher education and increased funding for student aid to ease tuition costs for students across the Commonwealth.