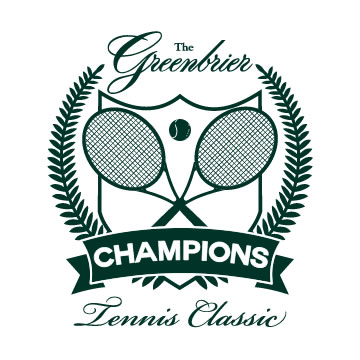 The Greenbrier announced that Tennis Pro Emeritus Pete Sampras and John McEnroe will return to play in the fourth annual Greenbrier Champions Tennis Classic, along with newcomers Jim Courier and James Blake.
"We are really honored that Pete Sampras and John McEnroe will return for their fourth year, and are thrilled to welcome James Blake and Jim Courier this year. To have four of the top American tennis players come to America's Resort is really something wonderful," says Terry Deremer, Director of Tennis at The Greenbrier. "With the addition of our new Center Court at Creekside stadium, this year's tournament will be the biggest and best ever."
Building on the overwhelming success of The Greenbrier Champions Tennis Classic since its debut in 2012, The Greenbrier has significantly expanded its annual tennis tournament, which now spans two days and will include three marquee matches between these four tennis legends, along with the popular Pro-Am.
Adding to the action, this year's tournament will take place at the resort's brand-new, professional-grade tennis stadium, Center Court at Creekside. The 2,500-seat outdoor stadium will be unveiled to the public at tomorrow's Grand Opening celebration, featuring an exhibition match between longtime rivals, Pete Sampras and Andre Agassi, and a performance by multi-platinum group, Earth, Wind & Fire.
"I always enjoy my time at The Greenbrier and am looking forward to once again returning this September.  This year's Greenbrier Champions Tennis Classic should be an exciting event with the new stadium and a highly competitive field of players," said Greenbrier Tennis Pro Emeritus, Pete Sampras.
Pete Sampras is the consummate gentleman and has represented The Greenbrier as the resort's first-ever Tennis Pro Emeritus since 2013. As a former World Number One, and 14-time Grand Slam Champion, Sampras is arguably the greatest American tennis player to date.
John McEnroe, known for his uncanny ability to entertain a crowd and his trademark intensity, was also ranked World Number One for four consecutive years between 1980 and 1984. He holds seven Grand Slam singles titles and isa former Captain of the United States Davis Cup team.
"I am looking forward to returning to the Greenbrier resort for the fourth time this September, following the US Open.  I know I am going to enjoy playing in the new tennis stadium along with Pete Sampras, Jim Courier and James Blake.  The competition should be really strong this year so I have been training really hard to be able to bring my best tennis for the fans to see," said McEnroe.
James Blake just recently retired from the ATP Tour in 2013 and has had many significant accomplishments throughout his 12-year professional career. Blake reached a World Number Four ranking in 2006 and will make his first-ever appearance at The Greenbrier in September.
"I have heard so many fantastic things about the facilities at The Greenbrier and look forward to my first visit there!" said Blake.
United States Davis Cup Captain and former World Number One, Jim Courier will be a great asset to The Greenbrier Champions Tennis Classic. During his career, Courier won four Grand Slam titles and holds the record for being the youngest male player to have reached the finals of all four Grand Slam singles tournaments.
"After all of the wonderful things I have heard about The Greenbrier, I'm very much looking forward to competing with some of the greatest American tennis players of all time this September," said Courier.
"It's remarkable that the icons of American tennis over the last 35 years have elected to come and entertain our guests at The Greenbrier and our rapidly growing national tennis presence," said Greenbrier Chairman and Owner James C. Justice. "It's fascinating to see how competitive and talented these gentlemen are and we are confident that there will be tremendous action."
Tickets for matches taking place on Saturday, September 26th start at $75 per seat, and tickets for Sunday, September 27th start at $50 per seat. Weekend passes will be available starting at $100 per seat.  A limited number of tickets for "Meet & Greet" sessions with the players will also be available for $25 per session.  For more information about The Greenbrier Champions Tennis Classic, visit:  www.greenbrier.com/tennisclassic.
For information about various sponsorship packages, please contact Victoria Matheson at 304-536-1110 x 7508 or victoria_matheson@greenbrier.com. For accommodations at The Greenbrier, please call 855-239-7531 (option 4).
Tickets for The Greenbrier Champions Tennis Classic will be available to purchase on June 20th at
www.greenbrier.com/tennisclassic
. Tickets for the Grand Opening are available now at 
www.greenbrier.com/centercourt
 and at Will Call.
Will Call for the Grand Opening will be located at The Indoor Tennis Center on Saturday, June 20th from
8am-2pm
and again from 7pm-9pm.