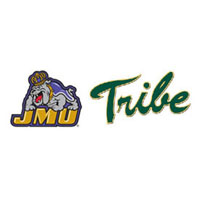 William and Mary struck for innings of six, seven and six runs on 23 hits en route to a 24-6 win over JMU in the final game of a Colonial Athletic Association baseball series on Sunday afternoon at Eagle Field at Veterans Memorial Park.
W&M improved to 22-13 overall and 6-2 in the CAA while JMU fell to 12-21, 4-4 CAA. The game featured 1,294 fans in attendance, the third-largest recorded in JMU program history.
Eight Tribe batters posted multiple hits in the game with left fielder Michael Katz and catcher Ryan Hissey each had four hits with four RBIs, including a home run for each, the 14th of the season for Katz. Center fielder Derek Lowe had three hits with four RBIs. Shortstop Tim Hoehn doubled three times with two RBIs while designated hitter Charlie Gould also homered.
Nick Brown picked up the win to improve to 3-1 while sophomore Mark Gunst (Fairfax, Va./Paul VI) took the loss to fall to 2-5. Gunst was the first of eight pitchers in the game for the Dukes.
Senior right fielder Tyler Gregory (Dothan, Ala./Houston Academy), sophomore catcher Bobby San Martin (Fairfax, Va./Centreville) and redshirt sophomore shortstop Kyle Weston (Penn Laird, Va./Spotswood) each homered for JMU. Gregory drove in three runs with two hits and Weston added his 11th double. Freshman left fielder Ky Parrott(Herndon, Va./Herndon) added a pair of doubles and junior center fielder Kevin Husum (Panama City, Fla./Bay) was 3-for-5 with two runs.
JMU will be on the road on Tuesday with a 6 p.m. game at Liberty.