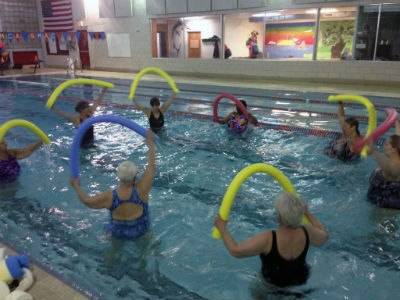 Tina Ortiz read about the Water Divas class in the January issue of the Y Magazine and thought it sounded like what she was looking for.
"I was looking for something that wasn't too strenuous on my joints and my bones, because I'm in the weight-loss process. I've lost 40 pounds, and I'm still trying to work on that without aching all the time. The running was killing my joints. This has been great," said Ortiz, a regular with the Water Divas, who meet three nights a week for a strenuous 45-minute water aerobics workout.
The group has been meeting regularly for the past three years, said instructor Linda Buckmaster, who has been teaching water aerobics at the Y for more than 20 years.
The Water Divas workout mixes aerobics, strength training and stretching. The most noticeable benefit to participants like Ortiz and Mary Smith, who started taking the classes before undergoing knee-replacement surgery, is reduced impact and reduced weight bearing on the joints.
"The first two, three times I got back after the surgery, it was wonderful. It didn't hurt, and it felt like it did before. No pain. It was great," said Smith before a recent Water Divas class.
Water Divas
Monday/Thursday/Friday
M 8:30 pm – 9:15 pm
T 8:15 pm – 9 pm
F 7 pm – 8 pm
Fun, low impact class designed to release stress and tension as you unwind after a hard day's work. You will burn calories, improve core balance strength, tone and stretch muscles, while relaxing the body and mind for a good night's sleep, at the same time. You don't even have to get your hair wet!
The current roster of Water Divas range in age from early 30s to mid 70s. The participants have built an interesting bond that extends beyond the pool, said Maggie Van Huss, who has been a Water Diva for three years.
"One of the nice things about this group is the camaraderie that we have," Van Huss said. "Because it is such a wonderfully diverse group, we can appreciate the friendships that we have, not just in the water, but also in life. We periodically schedule social events just because it's the thing to do, or to celebrate a life event."
Like when Divas member Leta Richardson was up for a Club Red Inspiration Award through the UVA Heart & Vascular Center.
Richardson joined the Water Divas after her father died from heart disease, and she decided that she needed to take steps to take control of her heart health.
Richardson works two jobs, and it can be hard to hit the gym, "but working out relieves the stress," said Richardson, who was encouraged to share her story with UVA by her fellow Divas.
The Divas also pair up to work out together at the Y and on pre-pool walks on the nearby South River Greenway, said Divas member Anita Fears.
"Having that partner, partners, does help," Fears said. "Some nights you don't feel it, but you have to go, because your partners are there, your friends are there. Some nights you might be in a really crabby mood, and you're like, I don't want to be around anybody. It really is a good release."