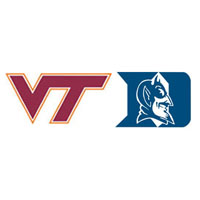 Duke jumped out to a 20-0 lead and had a Homecoming crowd at Lane Stadium ready to head to the exits. Then Virginia Tech found its Inner Hokie.
Tech ran off 41 unanswered points to turn that early hole into a convincing 41-20 win on Saturday.
All looked lost after Duke (5-2, 2-1 ACC) scored on its first possession on a 62-yard pass from Sean Renfree to Jamison Crowder, got two field goals from Ross Martin and then a 20-yard interception return TD from Jordon Byas that made it 20-0 Duke 12 minutes into the game.
Virginia Tech (4-3, 2-1 ACC) began to reverse the momentum late in the first quarter, getting on the scoreboard on a Martin Scales 4-yard run to cap a seven-play, 76-yard drive that cut the lead to 20-7.
A Cody Journell second-quarter field goal made it 20-10 Duke, and then came the game-changing sequence. Duke used its two-minute offense to get the ball near the red zone in the waning moments of the first half before a Renfree pass was tipped and intercepted by Detrick Bonner. Logan Thomas connected with Marcus Davis on a 42-yard touchdown pass on the next play to make it 20-17 Duke at the half.
Virginia Tech scored on the first possession of the second half on a 45-yard run by freshman J.C. Coleman, making his first career start.
A 47-yard TD pass from Thomas to Davis and another Journell field goal extended the lead to 34-20 after three.
Duke drove inside the Tech 5 early in the fourth but turned the ball over on downs. Coleman took the air out of the Blue Devils' sails on the first play from scrimmage following the turnover, taking the ball to the house on a scintillating 86-yard TD run that provided the game's final points.