Bugs, bugs, and more bugs! If you'd like to see hundreds of spiders, bees, cockroaches, and other small creatures all in one place, come to the seventh annual Hokie BugFest on 
Oct. 14
, from 
10 a.m. to 5 p.m.
 at the Inn at Virginia Tech.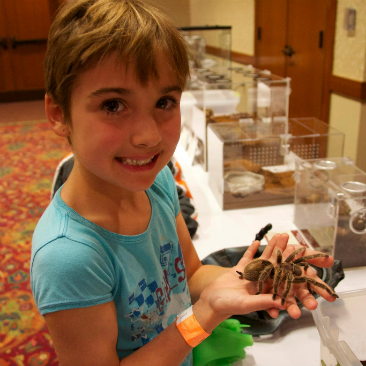 Hokie BugFest, one of Virginia Tech's largest science literacy events, promotes the science of entomology through learning, discovery, and engagement. This STEM-inspired event is free and open to the public with free parking at the inn and in surrounding lots.
New attractions this year include a bug-eating contest for adults (18 and over), a live butterfly exhibit, and a walk-in beehive. Onstage you will find Tony Gustin, the bug whisperer; the Alberti Flea Circus; Bug Bingo games; and a bee waggle dance contest. Tony's educational super shows have wowed children all over the U.S. Jim Alberti's famous performing fleas are a piece of vaudeville history not to be missed.
Look for the cascade of bug-shaped balloon sculptures created by Brandon the Balloon Guy. Visit the pollinator exhibits and discover how honey bees and other important pollinators help make agriculture possible. Learn about apiculture and find out how you can help native pollinators in your own backyard.
The heart of the Hokie BugFest is the live Bug Zoo. The zoo's residents include beetles, scorpions, cockroaches, centipedes, vinegaroons, and many others. They hail from around the world and from your own backyard. A featured exhibit of the Bug Zoo is the spooky Spiders' Lair, showcasing hundreds of tarantulas and other spiders (including a black widow spider and a giant bird-eater tarantula).
Arts and crafts are always a central theme of the Hokie BugFest with activities for kids and adults. Join a drawing class with Jane Blevins of College Art and learn to sketch bugs, or stop by the BugArt Studio, where kids can make all sorts of bug-inspired crafts.
Visit exhibits from the Virginia Museum of Natural History and the Schiele Museum. Come talk with Virginia Tech police about forensic entomology (using arthropods to solve crimes). Ask a veterinary student about common pests of companion animals.
Kids can participate in a 4-H insect collection contest, earn a junior entomologist certificate, and test their knowledge with Bug Jeopardy. They can also buy a copy of Kellie Worrell's new children's book, "The Collectors," which tells the story of two young entomologists and their award-winning insect collection.
For more details, go to hokiebugfest.org or check out our Facebook page. This is a SAFE (Supporting Autism-Friendly Environments) event. At 9 a.m., before the event opens to the public, we will host several activities for autistic children and their families in collaboration with VT's Center for Autism Research. Please call 540-231-6543 if you wish to attend.
If you are a person with a disability and desire an accommodation, please contact Rachel Parson at 540-231-6543or email [email protected] or TDD 800-828-1120 during regular business hours at least 10 business days before the event.