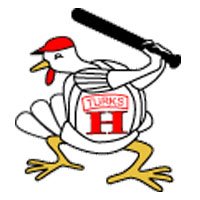 Dominant starting pitching from Nolan Krivijanski and Ryan Castellenos forced a doubleheader split between the Harrisonburg Turks and Covington Lumberjacks on Tuesday night.  Covington Took the first game 4-0 and Harrisonburg won the second 2-1.
Krivijanski allowed just two hits and walked nobody in seven shutout innings to earn his first win of the season.  He had a perfect game going into the fifth inning before Eric Kalbfleisch lead off with a single.
The Lumberjacks took the lead in the second inning when Grant McKown stole second base while Brent James struck out at the plate.  While Joey Roach's throw went to second, Hayden Platt crossed home plate for Covington.  Platt would score an insurance run off a McKown single in the sixth inning to make the score 4-0.
In the second game, Castellenos struck out nine batters in six innings of work.  He allowed just one run on five hits and one walk.  With the win he improves his season record to 1-1.
The Turks entered the fourth inning trailing 1-0, but triples from Christopher Barr and Kalbfleisch followed by a single from Roach would give the Turks two runs and the 2-1 lead that stood for the rest of the game.  Jose Carrera had an RBI single in the third inning that had given Covington the early lead.
After the split, Harrisonburg is now 20-12 and Covington is 14-17.  The Turks host the Winchester Royals on Thursday night at 7:30 p.m.