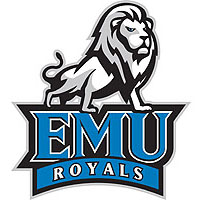 EMU let what could have been a good ODAC win slip through its fingers, giving up the final eight points in a 74-73 home loss to Hampden-Sydney.  The men never trailed against the Tigers (13-4 / 5-3 ODAC) until the final 1.8 seconds, turning the ball over and giving up two late free throws in Yoder Arena.
The game had originally been scheduled for Saturday, but was moved because of Winter Storm Jonas.
The Runnin Royals played a great first half, holding H-SC scoreless for the first five minutes to take the early lead.  The visitors eventually pulled even at 14-14, but EMU kept on their high pressure defense and struck a 15-3 run to vault to a 31-18 cushion.
Khalil Davis (Harrisonburg, Va./Spotswood) knocked in a late three pointer to provide the men with a 39-24 lead at halftime.
The Royals controlled play over the first 20 minutes, forcing the Tigers into 15 turnovers and out-shooting their guests, 48% to 30%.
Isaiah Harris-Winn (Frederick, Md./St. Maria Goretti) dumped in a trey early in the second, bumping the margin to 42-26.  H-SC scored on three straight possessions to get within 48-42, but the Royals responded with back-to-back-to-back layups and went back up by double figures at 54-42.
As fouls and free throws clogged the pace of the game, Harris-Winn hit a pair of tosses to keep the edge at 69-59 with 4:35 to go.  Neither team scored over the next two minutes before Hampden-Sydney's Mike Murray had a personal 7-1 run to get his team within 70-66 with 1:04 to go.
With 32.7 left, Christian Hansen (Manassas Park, Va./Osbourn Park) made one-of-two free throws, but Harris-Winn tipped the rebound loose and Jerome Jones (Charles Town, W.V./Washington) gobbled it up.  He was fouled and made both tosses with 30.4 on the clock to push the margin back up to 73-66.
JaVonte Reddick hit a big three for the Tigers and Davis missed both of his free throws with 15.4 showing.  H-SC took a surprising amount of time to get a shot on their next possession, but senior Mitch Owens nailed a three from the right side to slice it 73-72 with 4.2 seconds left.
The Royals couldn't get a clean look to inbound and the Tigers came up with the steal and got fouled with 1.8 showing.  Andrew Evans made both of his tosses to swing the visitors in front for the first time, and EMU couldn't get the ball into anyone's hands as time expired.
The men still won the turnover margin at +7 (22-15), but they struggled to hit shots in the second half and finished just 14-27 from the free throw line.  The Tigers were 24-29.
Jerome Jones led EMU's balanced effort with 14 points and six rebounds.  RaShawn Latimer (Warrenton, Va./Kettle Run) scored 12 and Harris-Winn added 10.  Xavier McCants (Olney, Md./Sherwood) added seven points and six rebounds off the bench.
Murray went 12-15 from the free throw line and scored a game high 24 points to go with four steals.  Owens hit three of H-SC's triples and put in 18 points.
The Runnin Royals will be looking to ending their losing skid on Wednesday when they host Washington and Lee.  Four of the six losses in the current stretch have been by one or two points.