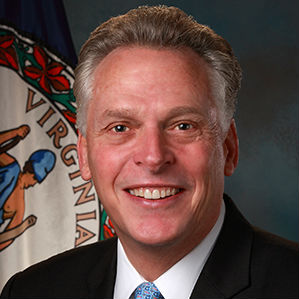 Governor Terry McAuliffe was presented with the 2016 Governor of the Year award from the Biotechnology Innovation Organization (BIO), in recognition of his leadership and commitment to strengthening the biosciences industry within Virginia. Governor McAuliffe received the award at the 2016 BIO International Convention in San Francisco, California.
"Biotech innovation is key to building a new Virginia economy, and we have made it a top priority to encourage growth in this exciting sector," said Governor McAuliffe. "This emerging industry has tremendous potential to make our Commonwealth stronger, healthier and more competitive in the 21st century economy. I am honored to receive this acknowledgement of our administration's commitment to strengthen and expand an industry that is working to heal, fuel and feed the world."
Since taking office, Governor McAuliffe has made the biotechnology sector a central feature of his agenda to grow and diversify the Virginia economy. By supporting expanded tax incentives and research initiatives, as well as advocating for Virginia's biotech industry across the world, the Governor has helped to strengthen the sector in the Commonwealth. Virginia has expanded to more than 200 biotech companies and fostered strong workforce development programs through a network of university research parks across the Commonwealth.
In a press release announcing Governor McAuliffe's selection as BIO "Governor of the Year," BIO President and CEO Jim Greenwood said, "Governor McAuliffe has been an exemplary leader in enhancing Virginia's growth as a biotech hub through strong support for policies that benefit a pro-jobs and pro-biotechnology environment. His leadership on biotech tax credits is a model for federal legislation that supports critical early-stage capital formation. Furthermore, initiatives such his Virginia Research Investment Fund are powerful and successful tools for attracting and supporting industry growth. The Governor's leadership in this field will continue to benefit his state, in terms of jobs and innovation, for years to come."
"Governor McAuliffe has been a pro-business advocate and supporter of initiatives that are building a sustainable statewide biotech community, both in his current leadership position and through his years of service to Virginia," said Jeff Gallagher, CEO of Virginia BIO. "Governor McAuliffe has repeatedly demonstrated his commitment to building a strong bioscience economy in Virginia. We thank him for his service and support!"
BIO is the world's largest trade association representing biotechnology companies, academic institutions, state biotechnology centers and related organizations across the United States and in more than 30 other nations. BIO members are involved in the research and development of innovative healthcare, agricultural, industrial and environmental biotechnology products. BIO also produces the BIO International Convention, the world's largest gathering of the biotechnology industry, along with industry-leading investor and partnering meetings held around the world.