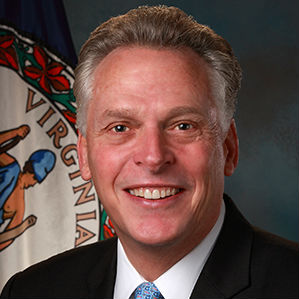 Governor Terry McAuliffe announced today a series of legislative proposals aimed at enhancing employment and educational opportunities for Virginia veterans as part of his ongoing effort to build a new Virginia economy. The Governor's agenda would also strengthen Virginia's support to military families and defense installations across the Commonwealth.
Speaking about today's announcement, Governor McAuliffe said, "Building a new Virginia economy requires giving our veterans the resources they need to put their unique skills and training to work in rewarding careers. I look forward to working with the General Assembly to pass these common sense measures to strengthen our Commonwealth's standing as the best place on earth for military personnel, veterans and their families to live, work and thrive."
Secretary of Veterans and Defense Affairs John C. Harvey, Jr. said, "These legislative initiatives are a clear indication of Governor McAuliffe's firm commitment to our veterans and will enable Virginia's rapidly growing veteran population to make significant contributions to the new Virginia economy."
Below is a summary of the legislative proposals Governor McAuliffe announced today:
Implementation of a Military Children Identifier: Provide for uniformed services-connected children to be identified by school districts in order to allow tracking of data to help inform policy and program decisions for this unique student population and to better provide for federal funding to local school districts.
Military Bond Initiative: Allow the Virginia Public Building Authority to issue bonds for Military Mission Improvement and Expansion projects as recommended by the Commission on Military Installations and Defense Activities.