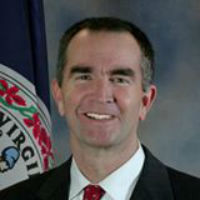 Gov. Ralph Northam will address Virginia Tech's Class of 2018 during University Commencement exercises to be held on Friday, May 11, continuing the tradition of inviting new Virginia governors to deliver the commencement address.
The University Commencement ceremony will begin at 8:30 a.m. at Lane Stadium/Worsham Field. A complete schedule of commencement ceremonies and additional commencement information can be found on the commencement website.
"We're pleased Gov. Northam graciously accepted our invitation to speak to our graduating students," said Virginia Tech President Tim Sands. "His leadership in medicine, business, and government makes him an ideal choice to inspire our graduates during the commencement celebration."
Since 1990, first-year Virginia governors L. Douglas Wilder, George F. Allen, James S. Gilmore III, Mark R. Warner, Timothy M. Kaine, Robert F. McDonnell, and Terence "Terry" McAuliffe have delivered the commencement address at Virginia Tech.
A native of Virginia's Eastern Shore, Northam graduated from Virginia Military Institute and Eastern Virginia Medical School.
Before his inauguration as the 73rd governor of the Commonwealth of Virginia in January, Northam served as an Army doctor, pediatric neurologist, business owner, state senator, and lieutenant governor.
As governor, Northam is working toward ensuring that every Virginian has the opportunity for good health, a good education, and a good job.
Northam and his wife Pamela Northam have two adult children: Wes, a neurosurgical resident in Chapel Hill, North Carolina; and Aubrey, a web developer in Richmond.