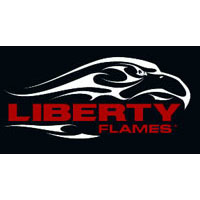 Liberty football coach Turner Gill has added former Nebraska assistant coach Ron Brown to his staff as the Flames' new associate head coach and wide receivers coach.
Gill and Brown spent 13 seasons coaching together at Nebraska under legendary head football coach Tom Osborne (1990, 1992-2003).
During the 13-year time period, Nebraska won three national championships (1994, 1995, 1997) and five conference championships (1992, 1993, 1994, 1995 and 1997).
"I am thrilled to announce the addition of Ron Brown to our coaching staff," said Gill. "He will be our program's associate head coach, as well as, our new wide receivers coach. Ron has coached over 20 years at the FBS level and is a tireless recruiter. He is passionate about his relationship with Jesus Christ and he will do a tremendous job developing our receivers.
Brown spent a total of 24 seasons as an assistant coach at Nebraska, working under Osborne (1987-03), Frank Solich (1998-2003) and Bo Pelini (2008-2014).
Brown followed Pelini to Youngstown State in 2015 where Brown served as the Penguins' running backs coaching during spring workouts.
Brown served in a variety of roles at Nebraska, working with the Huskers' wide receivers/tight ends from 1987-2002, wide receivers in 2003 and 2008-10 and running backs from 2011-14.
Under Brown's direction, junior running back Ameer Abdullah enjoyed one of the finest seasons in school history in 2013.
An All-Big Ten first team selection and semifinalist for the Doak Walker Award, Abdullah rushed for 1,690 yards. He ranked seventh nationally in rushing yards per game and his yardage total was the fourth best in Nebraska history and the most since All-American Ahman Green ran for 1,877 yards in 1997.
Brown's running backs helped Nebraska rank eighth nationally in rushing offense (253.4 yards per game) in 2012. Preseason All-American Rex Burkhead missed much of the season with a knee injury, and carried the ball only 98 times, but managed 675 yards and 6.9 yards per carry. Without his top running back, Brown tweaked his I-back rotation to help the Huskers again rank among the nation's rushing leaders.
Abdullah rushed for 1,137 yards on 226 carries as a sophomore, and his rushing total was the sixth-highest ever by a Husker sophomore. The second-team All-Big Ten selection produced six 100-yard rushing efforts this season, including 100-yard performances in each of his first five career starts, the longest such streak by a Husker since 1993.
In 2011, Brown helped Nebraska rank No. 15 nationally in rushing and was a nominee for the Broyles Award, given to the nation's top assistant coach.
All-Big Ten running back Rex Burkhead led the Huskers' prolific rushing attack, ranking No. 19 in the nation with 104.2 rushing yards per game. Burkhead posted seven 100-yard rushing games, and finished with 1,357 rushing yards for the seventh-best rushing total in school history and the highest total by a Husker running back since 1997.
Working with Nebraska's tight ends in 2010, Brown's unit was a valuable asset in both the passing and running games. In the passing game, Kyler Reed emerged as a playmaker, catching 22 passes for 395 yards and a Nebraska tight end record eight touchdown grabs. Led by Ben Cotton, Brown's tight ends were also a key cog in Nebraska's rushing attack, which led the Big 12 and ranked ninth nationally in rushing.
In 2009, Brown's tight ends combined for 46 catches, 442 yards and six touchdowns, led by Mike McNeill. The Associate Press All-Big 12 second-team selection led the squad with four touchdowns and ranked second with 26 receptions and third with 259 receiving yards.
In 2008, Brown assisted with a Nebraska offense that finished No. 12 nationally in total offense. McNeill set a Huskers tight end season record with 32 receptions, including six touchdown grabs.
Brown served as wide receivers coach for his entire first tenure with the Huskers and also tutored the tight ends during his first 17 seasons on the Nebraska staff (1987-02). The blocking of Brown's wide receivers played a key role in Nebraska's nine NCAA rushing titles.
Brown is nationally respected for his ability as an intense teacher on the field. Under Brown, Nebraska's were long known for their tenacity and downfield blocking. Despite featuring a run-based attack from 1987 to 2003, Brown's receivers and tight ends also made their mark in the passing game, leading the Big 12 in touchdown receptions three times.
Brown joined Osborne's staff for his first tenure at NU after four years of coaching at Brown University in Providence, R.I., from 1983 to 1986. Brown's first season was as the school's head freshman coach, and he then spent three seasons as defensive backfield coach. Brown also served as assistant to the athletic director in 1986.
Twenty seven of Brown's former pupils have gone on to professional careers, including tight end Johnny Mitchell, the New York Jets' first-round pick in 1992; Tyrone Hughes, the two-time Pro Bowl selection with the New Orleans Saints; and tight end Sheldon Jackson, a 1999 draft pick of the Buffalo Bills. Brown has coached 39 academic all-conference players and three CoSIDA Academic All-Americans, including Burkhead in 2011.
Brown received his bachelor's degree from Brown in 1979, then earned his master's degree in public health from Columbia in 1982.
Brown was a two-time first-team All-Ivy League performer as a defensive back. He was selected to Brown's All-Century team and the school's Sports Hall of Fame. Brown signed with three NFL teams as a free agent from 1979 to 1981.
He began his coaching career as a defensive coordinator for the semipro New Jersey Rams in 1982, before moving to his alma mater in 1983.
Off the field, Brown and former Husker Stan Parker are co-founders and co-directors of a statewide Christian ministry called Mission Nebraska.
The ministry stewards MY BRIDGE RADIO, which consists of numerous Christian radio stations and translators across Nebraska. Mission Nebraska also facilitates a statewide Christian ministry called FreedMen Nebraska, which challenges and inspires men and boys to take a strong courageous Christian stand in the public square.
Through FreedMen Nebraska, Brown also hosts a weekly statewide cable TV show called "Truth Vision", along with daily radio spots.
Brown spent the four years prior to his return to coaching serving as the Nebraska State Director of the Fellowship of Christian Athletes (2004-07). After returning to coaching, Brown has continued as a regular columnist for FCA's National Magazine "Sharing the Victory."
During his time away from coaching, Brown also worked as an internet, television and radio college and high school analyst for ESPN and Sports Spectrum.
He has authored several books on Christian character and growth. He is an outspoken advocate on many issues, including adoption, abstinence and drug and alcohol education, race relations and anti-pornography, to name a few.
Brown is married to Molvina Carter and they have two daughters, Sojourner Elaine and Bronwyn Pearl.