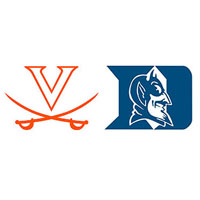 UVA (4-2, 2-0 ACC) travels to Duke (5-1, 1-1 ACC) on Saturday for a key ACC contest. The 'Hoos are alone atop the ACC Coastal Division standings after home wins over Louisville (23-21, Sept. 13) and Pitt (24-19, Oct. 4). Duke, the defending Coastal champ, is coming off a 31-25 win at Georgia Tech last weekend. The Blue Devils have won five of the last six in the series with UVA.
Augusta Free Press will be in the press box at Wallace Wade Stadium in Durham, N.C., for Saturday's game. Join AFP editor Chris Graham and contributor Jerry Carter on our live game blog during the game, and then check back after the game for postgame coverage of both locker rooms.
Virginia Hits the Road for ACC Tilt at Duke
• Virginia returns to action after its first of two bye weeks this season. The Cavaliers are in first place in the ACC Coastal Division and travel to division rival Duke on Saturday. The 66th meeting in the series with the Blue Devils will be for key positioning in the league standings.
Virginia vs. Duke
• The Cavaliers own a 33-32 all-time lead in the Duke series, which dates back to 1890.
• Virginia's 2011 victory over Duke at Scott Stadium snapped a three-game winning streak in the series by the Blue Devils.
• After UVa won eight games in a row in the series, Duke has won five of the last six meetings.
• At one time Duke had a 12-game advantage in the series, but by winning 22 of the last 31 meetings since 1982 (51-17 DU win), UVa has taken the series lead.
• UVa head coach Mike London is 2-3 all-time against Duke. He was 1-0 as the head coach at Richmond and 1-3 in his three meetings as UVa's head coach.
Virginia Coming off a Bye Week
• Virginia is is 26-28 all-time when playing a game after a bye week.
• Virginia is 0-2 all-time against Duke when playing the Blue Devils after a bye week. Both games were played at Wallace Wade Stadium.
• UVa is 4-1 all-time under head coach Mike London when playing a game following a bye week.
• UVa won the first four games following a bye week under London before dropping its first at Miami.
More on Virginia-Duke Series
• Duke is Virginia's oldest opponent (1890) this season; North Carolina is the second oldest (1892).
• Virginia has played 65 games vs. Duke – fifth most among all UVa opponents (UNC, VT, VMI, MD).
• The teams have played every year since 1963.
• This series, as well as the ones with Louisville, Syracuse and Wake Forest, are the only ACC series that UVa has a .500 or better record.
Offense Typically Excels vs. Blue Devils
• The Cavaliers have put up some impressive offensive performances against Duke in recent games.
• Virginia has scored at least 30 points in 17 of the last 31 meetings against the Blue Devils and topped 40 points six times.
• In the last 24 games, UVa has outscored Duke, 718-416 (avg of 29.9-17.3).
• The 2011 meeting between UVa and Duke at Scott Stadium marks the Cavaliers' lone victory in the last six meetings. UVa scored 17 third-quarter points in the win, including a Chase Minnifield pick-six and a Perry Jones 1-yard rushing touchdown.
• In the 2010 meeting at Wallace Wade Stadium in 2010, Virginia's 48 points were the most scored in a UVa loss and there were 103 combined points between the two teams – at the time it was the second-highest combined total in ACC history.
• Former UVa quarterback Marc Verica set the school record for passing yards in a game with 417. The 417 passing yards also stood as a school team record for passing yards until UVa broke the record with 480 team passing yards in the 2012 meeting with Louisiana Tech.
Last Meeting: 2013 (DU 35, UVa 22)
• UVa blew a 22-0 lead before falling to the Duke Blue Devils, 35-22, the last time these teams met.
• The Blue Devils converted four 4th-down plays in the second half to come all the way back, and their defense held the Cavaliers to five straight three-and-outs.
• Virginia gained just seven yards in the third quarter.
• Kevin Parks ran for two touchdowns and caught a scoring pass for Virginia, but it all came in the first half.
• Virginia was rolling early. Cavaliers outgained Duke 175-45 in the first quarter, opening a 14-0 lead, and made it 22-0 with 5:49 remaining in the first half.
• An exchange of punts set Duke up at its 38. Anthony Boone had completions of 14 yards to Brandon Braxton and 25 yards to Braxton Deaver. That took it to the Virginia 19, and four plays later, Boone rolled right under pressure and hit Jamison Crowder between defenders for the touchdown with 0:46 remaining in the half.
• Duke went on to score 28 points in the second half to secure the comeback win.
• Henry Coley led UVa with 14 tackles.
• Anthony Harris had one interception, starting his UVa record streak of five straight games with at least one pick.
Virginia – Duke Connections
• Duke run game coordinator and offensive line coach John Latina was a member of the 2008 Notre Dame coaching staff with current UVa coaches Jon Tenuta and Jappy Oliver. The Irish appeared in the Hawaii Bowl that season.
• Duke defensive line coach Rick Petri for two seasons worked under UVa safeties coach Mike Archer at Kentucky (2005-06). Archer was the defensive coordinator at the time for the Wildcats.
Virginia Rushing Attack
• UVa as a team has rushed for over 200 yards in back-to-back games: vs. Kent State (254) and Pitt (225).
• If UVa tops 200 yards rushing at Duke, it will be the first time UVa has gone three straight games with 200 or more rushing yards since a four-game span in 2004 (Duke, Maryland, Miami, Georgia Tech).
Virginia Has Forced 19 Turnovers Through six Games
• UVa is No. 2 in the nation with 19 takeaways through six games.
• UVa also is No. 2 in the nation with 10 fumble recoveries. Of the 10 fumble recoveries, seven came on defensive sacks by the Cavaliers.
• Virginia had 13 takeaways through the first three games, the most by the Cavaliers through the first three games of a season since 13 to start the 2002 campaign.
Virginia Has Eight Players with Interceptions
• Virginia is No. 2 in the nation with eight different players recording at least one interception. Houston leads the nation with nine. Georgia Tech and Ohio State share the No. 2 slot with UVa.
• Quin Blanding, Maurice Canady, Anthony Harris, Tim Harris, Demetrious Nicholson, Brandon Phelps, Daquan Romero and Max Valles all have recorded an interception for Virginia.