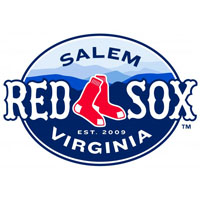 The Frederick Keys turned a 1-1 game after six into a 8-1 lead after eight frames, and won over the Salem Red Sox by that final score at LewisGale Field Wednesday afternoon. It was a pitcher's duel through six, but the Keys bats came alive for the series victory and a fifth straight win.
Justin Haley was outstanding for the Sox, going six innings in a no decision. Haley allowed just three hits and a run, without walking a batter and posted six strikeouts. Madison Younginer was roughed up in an inning plus, saddled with the loss. Younginer allowed seven hits and seven runs, walking three.
The teams combined for two runs and six hits through the first six innings. Frederick scored in the first when Glynn Davis knocked in Mike Yastrzemski on a sacrifice fly. The Sox answered in the fourth when Carson Blair doubled, moved to third on a wild pitch, and scored on a ground out by Mario Martinez.
But the game turned from a pitchers duel to a rout in the seventh. Younginer allowed a two out single to Michael Burgess followed by a walk to Zane Chavez. Jason Esposito then laced a two run double to give the Keys a lead they would not relinquish.
With a 3-1 lead in the eight, the Keys blew it open. Tucker Nathans led off with a singled, followed by a walk to Jerome Pena. Then Yastrzemski laced a double to right center, scoring two runs and giving the Keys a 5-1 edge. Then after a walk to Davis, Trey Mancini singled in Yastrzemski, followed by a Burgess double to give the Keys a 7-1 edge. After Dayan Diaz relieved Younginer, Chavez drove in Mancini on a sacrifice fly to give the Keys an 8-1 lead.
The Sox look to avoid the sweep tomorrow with Pat Light on the hill. Frederick will throw prized prospect Dylan Bundy. First pitch from LewisGale Field is at 7:05.