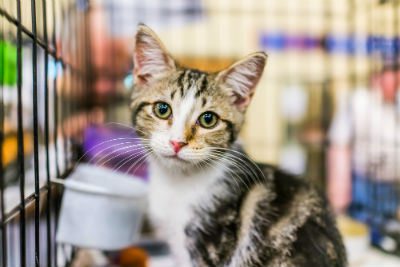 The Rockingham Harrisonburg SPCA is hosting a feline adoption special at the shelter this weekend as 40 additional cats are available for adoption this week.
The RHSPCA is reducing cat adoption fees by 50 percent.
They are also no longer requiring appointments to visit with adoptable pets. Walk ins are welcome and adoptable animals are available to go home the same day.
They are also hosting two events to help with adoptions.
"It has been a very busy kitten season for us, and we now have a large number of kittens that are ready for adoption thanks to the efforts of our fosters," said Huck Nawaz, RHSPCA executive director. "The adoption special is to encourage those thinking about adding a cat to the family to do so now as it will help us free up much needed space in the shelter."
Jammin' With Kittens: Thursday – Saturday, June 30 – July 2
The RHSPCA will have a number of felines available for adoption – returning from foster care – and ready to find their adoptive homes. The RHSPCA is offering half-price adoption fees of $25 for adult cats and $50 for kittens.
Summer Jam: Sunday, July 3
The annual music festival is returning this year with live music, food and fireworks. The event offers something for everyone in the family with all proceeds benefiting the RHSPCA to care for the over 2,600 animals they receive each year.
Potential adopters are encouraged to visit the RHSPCA website where they can view all animals available for adoption and complete an adoption application ahead of their visit.