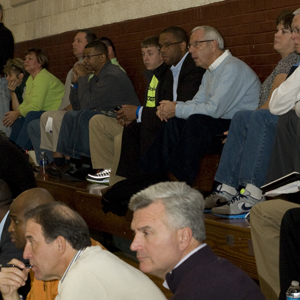 For three days this week, Fishburne Military School was one of the centers of the basketball universe. More than 80 college coaches were in Waynesboro for the Best Western Waynesboro Caisson Shootout, which featured four of the top 10 prep teams in the nation, and a plethora of future college stars.
"This is by far the best level of talent that we've ever had here. And the fact that people like Roy Williams made it part of their schedule to be here tells you that," said FMS coach and Shootout organizer Ed Huckaby, whose Caissons went 2-1 on the weekend, including posting a decisive 65-48 win over Kiski School in the tournament finale on Saturday.
The Shootout also featured a triple-overtime game – Hargrave Military Academy topping Kiski in that one, 135-117, on Thursday – and a number of games that came down to the wire, including Gray Military Academy's thrilling 100-99 win over Fishburne on Friday night.
"You look very hard to find places to go to play this level of talent. This was great for us. We'll definitely be back in the future. This tournament was so well-run. Coach Huckaby and his staff do a great job," said Daryn Freedman, the head coach at Kiski, whose Cougars went 1-2 on the weekend, after coming in as maybe the hottest team in prep basketball following its signature wins in the National Prep Showcase in November over national powers Brewster Academy and Tilton School.
That's how deep the field was for the Shootout. Massanutten was #1 in the Recruit Dirt Top 10 national poll this week. Kiski was #3, Fishburne was at #6 and Hargrave, the preseason #1 team, was at #7.
Coaches like Williams, the two-time national champion at North Carolina, and first-year Virginia Tech head coach James Johnson were on hand to see talents like Isaac Copeland, a 6'9″ forward from the Miller School, who is getting looks from UNC and Virginia, Massanutten guard Ahmad Fields, whose suitors include Ole Miss and Drexel, and St. John's Northwest Military Academy guards Jevon Thomas and Jeron Wilbut, both of whom have attracted significant interest from Big East schools.
Also on hand for the weekend was ESPN recruiting analyst Reggie Rankin, who made the trek to the River City to be able to make some firsthand talent evaluations.
"I wanted to take the opportunity to see some of these schools that I don't get to see every day. This is just a great event to be able to do so. My relationship with Coach Huckaby goes back many, many years, and I'm excited to be here to be a part of this," Rankin said.
For Huckaby, the attention from ESPN, from Williams and Johnson and the rest of the college coaches, is validation for what Fishburne has been doing to build its postgrad program over the past four years.
"I want to thank the Board of Trustees, superintendent Gary Morrison, assistant superintendent Susan Johnston, and everybody here at Fishburne and the local community for supporting us in getting this thing going," said Huckaby, who is the founding head coach of the postgrad program at Fishburne.
"The next step for us is to see where we can take it from here," Huckaby said. "We'd love to get some corporate support to allow us to build on what we have, and we'd like to see more local fans come out to take part in the Fishburne experience.
"Let's build on the foundation that we have here," Huckaby said. "This weekend was a lot of fun, but this can just be the start of things for Fishburne postgrad basketball."
More at www.FishburnePGBasketball.org.