Eleven of the top prep basketball teams in country will be at Fishburne Military School this week for the Best Western Plus 2013 Caisson Shootout.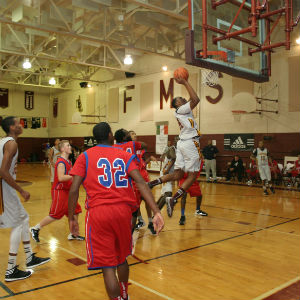 The host school Fishburne's postgrad basketball team headlines the event, which also features Fork Union Military Academy, Hargrave Military Academy, Massanutten Military Academy, Miller School, Believe Prep (N.C.), Gray Academy (S.C.), Kiski School (Pa.), Rise Academy (Pa.) and St. John's Northwest Military Academy (Wisc.).
Top prep recruits featured in the Shootout include Southern Cal signee Jabari Craig (Fishburne), Kansas State signee Tre' Harris (Fishburne), Clemson signee Donte Grantham (Hargrave). Marquette signee Satchel Pierce (Kiski) and Rutgers signee Dwayne Foreman (Massanutten).
The Shootout gets under way on Thursday with a single game at 7 p.m. pitting Miller School vs. Fishburne.
The rest of the schedule:
Friday, Dec. 6
3 p.m. Massanutten vs. Gray
5 p.m. Fork Union vs. Ridgeview
7 p.m. St. John's vs. Kiski
9 p.m. Hargrave vs. Miller
Saturday, Dec. 7
11 a.m. Believe vs. Fork Union
1 p.m. Gray vs. Miller
3 p.m. Kiski vs. Fishburne
5 p.m. Ridgeview vs. Massanutten
7 p.m. Hargrave vs. St. John's
Sunday, Dec. 8
11 a.m. Massanutten vs. Kiski
1 p.m. St. John's vs. Believe
3 p.m. Gray vs. Hargrave
5 p.m. Fishburne vs. Rise
More information online at www.FishburnePGBasketball.org.