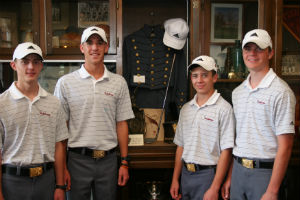 The Fishburne Military School golf team finished the regular season on Monday with a third-place finish at the VIC Tournament at London Down Golf Club in Lynchburg.
The 11-team field was led by Carlilse School (Martinsville) and Liberty Christian Academy (Lynchburg). Team scores were Carlilse 328, LCA 333, and Fishburne with a 340. Low medalist for the tournament was Ty Olinger from North Cross (Roanoke, VA) firing a two-over 74. The Caissons were led by freshman Matthew Manos with a score of 84, Collin Wade and Reid D'Amico both shooting an 85, and Jacob Cochran coming in with an 86. Also contributing were Joseph Baan with a 96 and Hunter Couchot with a 108.
"I'd be lying if I said I wasn't disappointed," FMS coach Patrick Shiflett said. "Coach Sayre and I both knew these guys were capable of winning the tournament, they just did not play well. I must say though, we are very proud of the season the boys had. Going undefeated is no small task. They fought hard in the heat and to bring home a third-place finish at the VIC, and out of 11 teams, it's pretty great.
"A big shout out to all of the guys who fought hard this whole season. It wasn't the smoothest ride, but the guys hung in there and really came together as a team. We said at the beginning of the season, our goal was to be in the state tournament as a team and we accomplished that by finishing the season ranked 3rd in the state."
Fishburne golf will travel to Farmville Sunday to play a practice round and then compete Monday in the State Championship at the Manor Country Club.