Despite never trailing in Friday's non-conference game against Virginia University of Lynchburg, the Runnin Royals were happy just to get out with the win, taking a 78-70 decision in Yoder Arena.  emu improves to 6-4 on the year in advance of their final non-ODAC game Monday night against Goucher.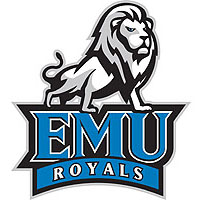 VUL earned control of the opening tip, but David Falk (Madison, Va./Madison) blocked their shot and RJ Sims (Fort Washington, Md./Friendly) put the Royals on the board with a three pointer from the right corner.  The duo then combined to score EMU's first 19 points, helping the men to a 21-11 lead.
The Dragons got within four points, before a late surge gave the Royals a 41-27 cushion at intermission.
A 9-0 run early in the second pushed the edge to 52-32, with Eastern Mennonite's biggest lead coming at 69-42 with8:48 left to play.  The men got careless from there, allowing the Dragons to finish on a 28-9 run for a surprisingly close final score.
emu shot 43% to the floor, compared to 36% for Virginia-Lynchburg.  The men's biggest advantage came from long range, where they hit 6-of-15, compared to 2-for-12 for the Dragons.
Falk was unstoppable, as he charted his sixth double double by halftime and finished with 20 points, 16 rebounds and five blocked shots.  Sims hit a pair of triples and scored 16.  Marcel Crump (Richmond, Va./Highland Springs) came in with 12 points, nine rebounds and four assists.
Lakuan McPhaul led Virginia-Lynchburg with 24 points and four steals.
The Royals play three games next week, starting with Goucher College at home on Monday.  Game time is 7:00pm.