EMU's post-Christmas schedule started on a down note, as the women shot 33% from the floor in a 67-58 loss at Johns Hopkins Thursday afternoon.  The Royals shot a season-low 1-for-15 from three point range as they slipped to 8-3 overall, with all their losses coming on the road.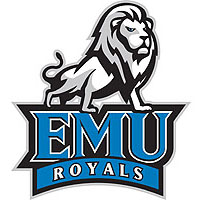 The game with the talented Blue Jays was nip-and-tuck for most of the first half, with JHU leading 18-17 with 7:21 left.  The home team then got inside for a quick 7-0 run spanning just 47 seconds, blowing out to a 25-17 edge.
Bianca Ygarza (Conestoga, Pa./Penn Manor) helped steady the ship, even hitting the first three pointer of her career, but the Blue Jays still led at halftime, 32-26.  Ygarza led both teams with 15 points and six rebounds at the break.
The opening five minutes of the second couldn't have gone much worse for EMU, as they women made just one bucket and watched Johns Hopkins use an 13-2 run to streak to a 45-28 cushion.  The Royals finally started chipping into the 17-point deficit with 12 minutes remaining.
By attacking the hoop, eastern mennonite triggered a 14-4 run to get within seven at 55-48 with 5:37 to go.  That would be as close as the women would get, however, as JHU settled back in and held on for the 67-58 decision.
The Blue Jays, whose only losses this year have been to Salisbury and Messiah, improved to 8-2 with the non-conference win.
Despite entering the game shooting 43% from the floor and 37% from long range, emu struggled to hit shots.  They kept close with a sizeable advantage at the free throw line, going 25-34 compared to 9-13 for JHU.  The Blue Jays grabbed 22 offensive rebounds to earn the win, however, holding a 47-36 rebounding edge.
Ygarza finished with a game high 19 points along with nine rebounds.  Keyla Baltimore (Bristow, Va./Brentsville District) added 16 for the women, while Alisa Brown (Dumfries, Va./Forest Park) had a season best five steals.  SeniorSteph Rheinheimer (Manheim, Pa./Lancaster Mennonite) played for the first time since spraining her ankle against Lancaster Bible on Nov. 16, but scored just two points in 12 minutes.
Johns Hopkins had a balanced attack, with Fatu Conteh leading four women in double figures with 14 points.
After scoring just 58 points in each of their past two games, eastern mennonite will look to get the offense back in gear with their final non-conference game next week.  They host Washington Adventist Tuesday night in Yoder Arena.