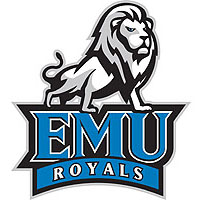 Eastern Mennonite University will honor its best known baseball alum, Erik Kratz, at Wednesday night's men's basketball game.
As part of Erik Kratz Night, Erik will be signing autographs before the game and during halftime.  A limited supply of pictures of Erik in his EMU uniform are available for kids under high school age.
Kratz, who played for the Royals on the 1999-2002 teams, graduated with 10 season and 10 career records at EMU.  He also holds the NCAA record for career doubles with 77.  After being drafted by the Toronto Blue Jays, Kratz has worked his way to the majors for both the Pittsburgh Pirates and Philadelphia Phillies organizations.