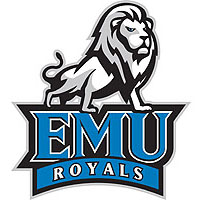 An "easy schedule" is always a relative term when it comes to basketball in the Old Dominion Athletic Conference, but compared to last year the upcoming season's schedule for the Eastern Mennonite men doesn't look quite as over-bearing as the last.
In their 25-game slate for 2014-15, which was released today, the Runnin Royals will play three games against teams coming off a trip to the National Tournament.  Last year, EMU had nine games against NCAA qualifiers.
One oddity on the schedule this year is four weekend classics or tourneys.
The men open the year by hosting the EMU Tip-Off Invitational on Nov. 15 and 16, taking on Ferrum and St. Mary's (Md.).  Although neither team went dancing last year, both traditionally have very competitive programs.  The following weekend EMU heads to Grantham, Pa., for a tournament hosted by Messiah College.  The Runnin Royals play DeSales on Nov. 21, followed by either Messiah or John Jay.  DeSales won the Freedom Conference last spring and knocked off the ODAC's Randolph-Macon in the first round of the National Tournament.
EMU also has weekends at Bridgewater's Don Glick Classic on Dec. 12 and 13 and a tournament at Hood College in Frederick, Md., on Dec. 20 and 21.
In the unbalanced ODAC schedule, the Runnin Royals only play one game each against the conference's two national qualifiers.  EMU hosts ODAC champion Virginia Wesleyan on Feb. 11, and head to regular season champ Randolph-Macon on Feb. 4.
Rival Bridgewater College comes to Yoder Arena on Jan. 14, with the Runnin Royals returning the favor on Feb. 18.  The men end the regular season at home against Roanoke on Feb. 21.
EMU has ODAC home-and-aways with BC, Roanoke, Washington and Lee, Shenandoah and Lynchburg.  The men play 11 home games this year, including Virginia-Lynchburg, Randolph and Emory & Henry.
The ODAC Tournament starts Feb. 23, culminating with the Championship game on March 1.  One change to the tourney format this year is that the men have their first round games on the Monday of tournament week, with the quarterfinals in Salem, Va., on Thursday.  The women have their quarterfinals on Friday, with all semifinals on Saturday.
Despite a heavy schedule and a young team last year, Eastern Mennonite finished 17-11 and earned the fifth seed in the ODAC Tournament.  They had wins over Emory & Henry and Lynchburg in the tournament before Hampden-Sydney ended their six-game winning streak in the ODAC semifinals.  Graduated All-ODAC Third Team wing RJ Sims is the only significant loss from that team.