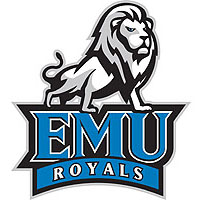 The talent is there for something special to happen.  And based on the way they ended last year, history also gives a positive nod to the possibility.  But EMU men's basketball coach Kirby Dean says it comes down to one simple thing – chemistry.
"We have a lot of good players," explained the Runnin Royals' 12th-year mentor.  "As long as no one cares whose stats look gaudy at the end of the night, I think we'll end up in the winner's circle.  If the only agenda is us winning games, I like our chances."
What does that mean?  The sky could be the limit, but for starters the men must concentrate on the Old Dominion Athletic Conference.  Eastern Mennonite has two ODAC regular season titles to their claim, but they have never won the ODAC Tournament in the 37 years of the league's existence.  In fact, the Royals have only played in one title game, finishing as runner-up in 1983.  EMU also has only one NCAA National Tournament bid in program history, going to the elite eight in 2010.
The men were picked in a tie for third in this year's ODAC Preseason Poll, showing them a lot of respect in one of the nation's top men's basketball conferences.
"I think it's about right," Dean admitted.  "There is so much parity that there is a wide range of where you could finish based on all sorts of variables.  I think we have four teams in the league that could legitimately make an NCAA Tournament run.  If we don't gel and don't find chemistry we could finish below that.  But if we do, we know we could compete with those guys above us, because we did last year."
EMU rode a six-game winning streak into the ODAC Semifinals last spring, closing with a record of 17-11, including 10-6 in ODAC play.  It was just the fourth time in program history the men charted double digits in conference wins.  Wing RJ Sims is the only significant loss from last year's squad, although the two-time All-ODAC player and 1000-point scorer will be tough to replace.
"RJ had a really, really good career," said Dean.  "One area where we might really miss him is late in games.  He made a lot of plays in the last two or three minutes of games.  He was not afraid to be the goat, and if you are not afraid to be the goat then you might be the hero.  But I think we have a few guys who are anxious to step into that role."
The Runnin Royals return seven seniors, including two All-ODAC players, from a team which finished second in the league with a shooting percentage of 46.6%.  Headlining that crew is 6-6 center David Falk (Madison, Va./Madison County), who averaged 14.1 points, 13.4 rebounds and 2.9 blocks per game.  He led the nation in rebounding and set EMU and ODAC records for rebounds in game and EMU marks for rebounds in a season, blocks in a season and blocks in a career as he was named All-ODAC First Team, VaSID All-State First Team and D3hoops.com All-South Region Third Team.
And Dean thinks his big man got better.
"David actually got in the gym this summer and worked on his game with an ex-D-I assistant coach," he said.  "You'll see a much more offensively skilled athlete.  He won't have to dunk to make a bucket."
The other All-ODAC returner is 6-4 wing Marcel Crump (Richmond, Va./Highland Springs).  In his first season after transferring from D-II Virginia Union to EMU, Crump was second in the ODAC in free throws and came in fourth in scoring with 17.0 points per game.  He added 4.2 rebounds and 2.6 assists and was named All-ODAC Second Team.
Other returning starters include 6-2 guard James Williams (Capitol Heights, Md./Archbishop Carroll) with his 8.3 points and 2.5 assists on 50.0% shooting and 6-4 sophomore Kwa McDonald (Frederick, Md./Tuscarora), averaging 3.9 points.  Deceptively, 6-7 Ryan Yates (Alexandria, Va./T.C. Williams) finished last year by coming off the bench but will start again as a senior.  He averaged 14.1 points, 4.1 rebounds, 2.5 assists and 1.6 steals, and will likely play at the top of EMU's high pressure defense with his disruptive wingspan.
Dean also praised Yates as a team leader.
"Ryan is a hard-working player," he said, "as hard as I've had in a long time.  He gets in the gym and works.  He's very confident now and aggressive and he is making plays he could not make as a freshman.  I think he'll have a really big year."
Being one of only two teams in the conference to bring back multiple All-ODAC performers (Falk and Crump) is just the tip of the iceberg for the Royals.
"Obviously it's a really good starting point to have back the best big man in the conference and arguably in the country, along with one of the top slashing players in the ODAC," explained Dean.  "They complement each other really well.  But it doesn't stop there.  James and Ryan are the same level of players, they just haven't received the recognition.  There are going to be four guys out there who aren't afraid to have the ball in their hands and aren't afraid to make a play."
Eastern Mennonite returns 11 players from last year's team, and each of them played in at least 18 games.  Energetic 6-2 senior Woody Furbush (Bridgeton, N.J./Salem) with his 3.9 points and 3.1 rebounds is the only other returner to play 10 or more minutes per game.  In all, the men bring back 82.5% of their offense.
Dean said the momentum from last year's strong finish visibly carried over to this season.
"I think it created a confidence level," he said.  "It created a lot of momentum for the offseason, if anything, and led to people having a really good summer and being really anxious to come back and finish what we started the second half of last year."
As if the host of experience wasn't enough, Eastern Mennonite brought in a bounty of athleticism in an eight-man freshmen class.  The result could be the most stacked depth chart in program history.
"I don't think there is any question this is the most talented freshman class I've had in my 12 years," Dean explained.  "The class that ended going to the elite eight may have been slightly more top heavy with talent, but when you consider this class one though eight, this class is more talented.  They have a chance to be a really special class.  One thing they have to understand is that not everyone will be in the rotation as freshman simply because of our upperclassmen and what spots they play.  But if they wait their turn they'll have a chance to do some really special things."
As Dean prepared this year's schedule, he made sure his men would be pushed with a challenging non-conference slate to prepare them for the rigorous ODAC Tournament.  As part of that, EMU will play four, two-day classics or tourneys.
"We needed as many D-III regional games as we could get," said Dean.  "It was a problem for us in the past and it's a problem around the ODAC.  People are familiar with the level of the ODAC and sometimes people shy away from playing us.  Playing all those weekend tourneys won't hurt us.  It will help us if anything as we get used to the 'win and advance' mentality."
The Runnin Royals open the year by hosting one of those weekends in the EMU Tip-Off Classic.  With the NCAA's official start of the season on Nov. 15, the men are hosting their classic on Saturday and Sunday of this coming weekend.
Eastern Mennonite opens against Ferrum Saturday at 7:00pm, before taking on St. Mary's (Md.) Sunday at 4:00pm.  Rival Bridgewater College will play a game before the Royals each day.
Click here to see the entire 2014-15 EMU men's basketball schedule.