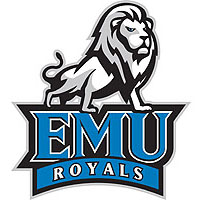 The way the ODAC coaches see it, EMU's field hockey team will finish right where they did last year.  After finishing in the middle of the pack at 4-4 in 2013, Eastern Mennonite has been tabbed for No. 5 in the ODAC Preseason Poll.
The Royals garnered 33 points in the vote of league coaches putting them comfortably between Shenandoah with 44 points and a trio of teams in sixth with 25 points.  Lynchburg was a unanimous choice as the preseason favorite, while Randolph-Macon got LC's top vote and was second in the poll.
EMU returns three All-ODAC players and all of them are seniors.  Defender Mandy Stowers (Powhatan, Va./Powhatan) broke a program record with 10 defensive saves last year and was named All-ODAC First Team and VaSID All-State Second Team.  Bethany Hench (Carlisle, Pa./Carlisle) was also honored by the conference as a defender, earning All-ODAC Second Team for the second straight year.  She had two defensives.  Attacker Jenessa Derstine (Harleysville, Pa./Christopher Dock) was All-ODAC Third Team for the third consecutive season, leading EMU with seven goals, four assists and 18 total points.
The Royals open their season with home games against Gettysburg this Friday and Ursinus on Saturday.