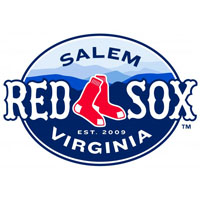 The Frederick Keys scored early and often with all five runs coming in the first three frames, on the way to a 5-3 victory over the Salem Red Sox at LewisGale Field Thursday night. Pat Light was saddled with the loss for the Sox, allowing all five runs on eight hits, with three walks and two strikeouts. Brady Wager was the winner for Frederick, allowing three runs on four hits in five innings of his own.
Glynn Davis got the Keys offense rolling early off Light. Davis led off the game with a single, stole second and reached third on a wild pitch. After two strikeouts and a walk, Jason Esposito singled in Davis to give the Keys a 1-0 lead. In the second, Wynston Sawyer walked with one out, followed by a Jerome Pena double. A batter later, Davis his a chopper to first base, but the throw home by Jantzen Witte was late to give the Keys a 2-0 lead. Tucker Nathans singled in Pena a batter later to push the lead to 3-0.
The Sox got on the board in the bottom of the second. Carson Blair led off with a triple deep to right center field, and scored on a groundout by Aneury Tavarez to get the score to 3-1.
Frederick struck for their final two runs in the third. Michael Burgess led off with a single, followed by a Jason Esposito double. Brenden Webb doubled in both runs a batter later to give Frederick a 5-1 edge.
The Sox would creep back in it with runs in the third and fourth. Matty Johnson hit a two out hustle double to left center field, and scored a batter later on a Miller single to cut the score to 5-2 after three. In the fourth, Tavarez was hit by a pitch with one out. Wager then surrendered a single to Mario Martinez and walked Jordan Weems to load the bases. A slow groundout by Dreily Guerrero got Tavarez in from third to make it a 5-3 game. But that was the last run either team would score. Dennis Torres was outstanding in relief, picking up a four inning save.
The loss snapped Salem's three game win streak and ended Frederick's four game skid. The rubber game of the series is tomorrow at 7:05. Joe Gunkel gets the ball for the Sox with Parker Bridwell on the bump for the Keys.