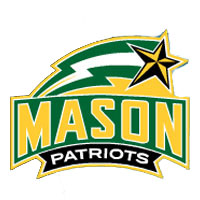 The George Mason men's basketball team suffered its first conference defeat of the season on Thursday night, falling at Drexel, 60-53, before a capacity crowd at the Daskalakis Center. The loss for the Patriots (12-5, 4-1 CAA) snaps a five-game winning streak and a conference-record 18 straight victories in CAA play. Drexel improved to 11-5 and 3-2 in conference in the two teams' lone matchup this season.
Freshman Eric Copes had a historic night, blocking seven shots which ties for the second-best single-game performance by a Patriot. All of his rejections came in the first half, while senior Mike Morrison led the Patriot offense with 10 points. Classmate Ryan Pearson had a game-high 11 rebounds, despite a 41-to-30 Dragons advantage off the glass. Damion Lee scored 21 points, all but five in the second half, to lead the Drexel offense.
The game got off to a sluggish offensive start, with neither team recording a field goal for more than five minutes. Drexel jumped out to a 6-2 lead, but the Patriots countered with a 10-1 run to go up 12-7. The Dragons responded with backto back buckets by Lee to pull within one. Mason again responded, pushing ahead to make the score 20-15.  A Fouch layup followed by a Massenat 3-pointer at the 2:26 mark left the score tied at 20, but DU scored just once more, a Massenat jumper. Mason, meanwhile, added seven more to their tally, including a tip-in at the buzzer by Jonathan Arledge to set the halftime score of 27-22.
Mason held the lead until the 16:58 mark when a pair of Massenat free throws made it 30-30. The lead changed hands seven times, although the Patriots led by as many as four at 42-38 after a Morrison layup. Mason was up 51-50 with just over four minutes to go, but the Dragons closed out the game on a 10-2 run including a pair of 3-pointers by Lee which proved the eventual game-winner.
Copes's block total makes him one of three Patriots to reach seven rejections, the first since Morrison had seven against Indiana on November 22, 2009. George Evans also had seven twice, while Byron Tucker holds the program record with 10 against Miami on November 23, 1990.
The Patriots continue their road trip with a short turnaround, traveling to Harrisonburg where they will face James Madison on Saturday night at 7 p.m. The game against the Dukes will be televised live on Comcast SportsNet.