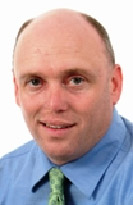 City firefighter Robert "Bob" Donaldson has announced his intentions to run for the Ward B seat on City Council during the May 1 general election.
Donaldson is a lifelong resident of the City of Waynesboro. He was educated in the Waynesboro school system, graduating from Waynesboro High School in 1995.  Donaldson received his AASD in computer electronics technology from Blue Ridge Community College in 2011. 
Donaldson began his service to the City of Waynesboro as a volunteer firefighter in December 2001. He has been employed by the City of Waynesboro as a career firefighter since 2003. Donaldson is also employed part-time as a fire-prevention specialist for the City of Harrisonburg and continues to volunteer his firefighting talents to the surrounding agencies.
Donaldson, as part of his duties with the Waynesboro Fire Department, provides fire prevention education to the Waynesboro City's elementary schools, where he is affectionately known as "Fireman Bob."
"I have decided to run for city council because I believe I can bring a new perspective to the government of Waynesboro," Donaldson said. "I am, and always have been, committed to serving and protecting the citizens of Waynesboro."
Donaldson cites as cornerstones of his campaign his desire to put city attention on education and economic growth.
"I believe that a strong education system is the cornerstone for growth of the community. If elected, I will work with other elected officials to continue to improve our city's school system," Donaldson said. "I will strive to enhance Waynesboro's economic growth by helping to improve and make more efficient our comprehensive city package that includes all aspects of the city's departments, services, and infrastructure.
"I have the background, understanding and skills to achieve these goals. I am also dedicated to continue listening to and being the voice of my constituents."