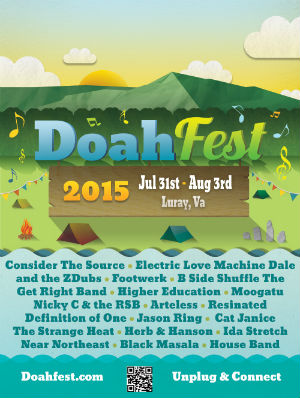 Doah Fest Music and Arts Festival has announced its official full lineup and activities list.  Doah prides itself on the diversity of its bands and this year is no different: bluegrass,  reggae, jam, hip hop, brass, gypsy jazz, rock, soul, world beats and more will be represented on The Farm at Doah 2015.
This level of diversity is not just for the music at Doah but also for the activities: yoga, silent discos, river sets and more are set to fill the weekend.
Doah Fest takes place between July 31st and August 3rd
Doah Fest 2015 Activities Program:
3 Stages of Music
Over 20 Bands and Djs
River Access Directly Festival Grounds
River Sets (Stage Facing the River for Select Sets. One of a kind experience.)
The DJ Grove (Imagine a Dance Club Under the Stars)
The Silent Disco
Yoga and Meditation Every Morning
Interactive Art
The Forest Lounge
Nightly Bonfires
Variety of Vendors
Beer Truck (permit in the works)
Art Forest
Doah Fest 2015 is proud to announce the following bands will perform at The Farm.:
Consider The Source
Electric Love Machine
Dale and The Zdubs
Black Masala
Resinated
Footwerk
B Side Shuffle
The Get Right Band
Higher Education
Moogatu
Nicky C & The RSB
Arteless
Definition of One
Jason Ring
Cat Janice
The Strange Heat
Herb & Hanson
Near Northeast
House Band
Ida Stretch
About Doah Fest: Doah Fest is a 4 day celebration of music, art, nature and positivity on one of the most beautiful river side properties on the east coast.  Doah was founded in 2013 by four local friends with the goal of creating a music festival that has all of the elements and diversity of a big festival in a more intimate setting. Doah has been host to top tier bands such as RDGLDGRN, Tauk, Whisky & Chamomile, Major and The Monbacks and many others. Doah stresses artistic expression as another important element; whether it is our professional artists installations or our interactive paint forest there are plenty of spaces for self expression.
Doah's driving philosophy can be summed up by one phrase… "Unplug and Connect".