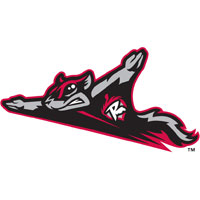 The Richmond Flying Squirrels (3-2) erupted for a seven-run seventh inning and trounced the Altoona Curve (2-3), 10-3, on Monday night at The Diamond.  Richmond took the first meeting of the season to take a leg up in the three-game series.  The Squirrels matched their entire offensive output from their four-game series with Bowie in the ballgame.
The starting pitchers dueled through the first five innings.  Richmond right-hander Joe Biagini, making his Double-A debut, matched zeroes with Altoona lefty Zack Dodson through five innings.  Dodson stymied the Squirrels for five innings on three hits.  He walked one and struck out one, not factoring the decision.
Biagini saw Dodson's five innings and raised him one, working six brisk scoreless frames.  He permitted just two hits, both singles, walked two and struck out four.  Despite his excellent outing, he was denied a decision and his first Double-A win.
When Altoona went to the bullpen, the Squirrels offense erupted.  Richmond scored seven runs in an 11-batter seventh inning and three more in a nine-batter eighth.  Mitch Delfino provided the spark that led to a wildfire, leading off the seventh and clubbing the first home run of the year for Richmond.  The floodgates opened from there, as Rando Moreno and Daniel Carbonell each supplied two-run singles in the inning.  Delfino then, batting for the second time in the inning, notched a two-run double to left field.  Four of the runs in the inning were charged to right-hander Tyler Sample (0-1), who took the loss for the Curve.
Delfino was at it again in the eighth, providing his third hit of the night – an RBI single.  That base hit highlighted the three-run frame as Richmond capped their scoring for the night against righty Jhondaniel Medina.
Righty Stephen Johnson (1-0) worked two innings for the Squirrels.  He struck out four and allowed just one unearned run to earn his first Double-A win.  The Curve scored two irrelevant runs in the ninth off right-hander Tyler Rogers.  Gift Ngoepe supplied the first with a solo-home run, the first home run allowed by the Squirrels staff this season.
Game two of the series is scheduled for 6:35 p.m. at The Diamond on Tuesday night.  RHP Chris Stratton (0-0, 3.60) makes the start for Richmond against RHP Angel Sanchez (0-0, 0.00) for the Curve.  The Flying Squirrels Pregame Warmup begins at 6:00 p.m. on Fox Sports 910 and FoxSportsRichmond.com.