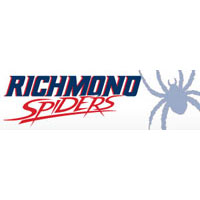 Both teams shot over 50 percent from the field, but the Davidson Wildcats were able to pull ahead in the second half and hold off a final minute Richmond Spider comeback to win 83-79 at Belk Arena.
The loss snaps Richmond's three-game winning streak, while the Wildcats bounced back from a one-point road loss over the weekend.
The Spiders shot 51.8 percent from the field, led by T.J. Cline's game-high 25 points. Cline shot 10-of-19 from the field, adding five rebounds and three assists.
Terry Allen scored 17 points, including 11 in the second half, and grabbed eight rebounds. ShawnDre' Jones scored 13 with five assists and three steals.
Richmond made 19 assists and only committed four turnovers, as the defense forced 12 turnovers and 16 points off Wildcat turnovers.
Davidson countered with 53.8 percent shooting and 11 threes. Peyton Aldridge led the Wildcats with 24 points, while Brian Sullivan added 21 points and six assists.
Richmond built a two-possession lead throughout the first half on outside shooting from Marshall Wood, Julius Johnson and Jones. Strong finishes in the paint from Cline and Trey Davis (nine points) countered the Wildcats' outside shooting, and the Spiders took a 40-37 lead into the halftime locker room.
Cline scored the first seven points of the second half for Richmond as the lead to grew as large as 45-37. But Davidson used a run and threes from Sullivan to take a 48-47 lead with 14:39 left. A trey from Wood bounced the Spiders back in front where Richmond would hold for the next six minutes.
However, Davidson used a run to open a two-possession lead and eventually went up 75-66 with two minutes left. The Spiders then hit six free throws in a row to cut it to 75-72 with 1:01 remaining. A layup from Allen and jumper from Jones made it 78-76 with 19 seconds left, and after a missed free throw the Spiders had the ball down three.
Davidson chose to foul and send Jones to the line rather than risk Richmond tying the game. After a made free throw, Davidson was awarded the ball on a lane violation and the Spiders pressure were whistled for fouls in the closing seconds.
Richmond heads across town on Friday night at 7 p.m. to take on VCU in the Bank of America Capital City Classic on ESPN2.