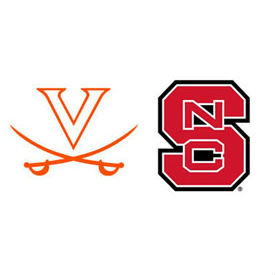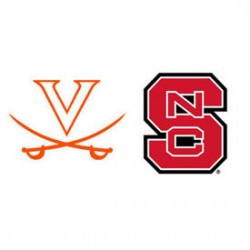 Davidson scored 72, Miami scored 80, and the writers were up in arms. What was wrong with the vaunted UVA Pack-Line defense?
Turns out, not much.
N.C. State started 6-of-10 from the field and led 16-8 six minutes in, but then the Pack-Line did what it usually does, turning the tide in a 6:18 stretch of the second half that saw State go scoreless, keying a 61-51 Virginia win.
"We knew that two games in a row we didn't execute defensively to our standard, and coach wanted to ramp it up this week. He got after us leading up to this game. I think we came out start to finish on edge, and we did a good job," junior guard Justin Anderson said.
Actually, it was a tale of two halves. N.C. State had an effective first half offensively, averaging 1.069 points per possession, in large part because the Wolfpack was 7-of-12 from three-point range, including a scorching 4-for-4 from long range by Ralston Turner, who had 14 first-half points, six coming in a 25-second span late in the first half that helped State narrow a nine-point deficit to just one, at 32-31, at the break.
The Pack led 42-41 with 9:20 to go when the Pack-Line took over. Virginia got stops on State's next eight offensive possessions, forcing four turnovers in the stretch, fueling a 10-0 run that gave the Cavs some breathing room.
The stat line for the second half tells all: N.C. State scored just .606 points per possession in the second half, shooting 36 percent from the floor and just 2-of-9 from three-point range.
Also telling: Turner, who had been 5-for-5 from the field overall in the first half, didn't score in the second half, missing all three of his shots from the field, after UVA coach Tony Bennett adjusted his strategy and put junior guard Malcolm Brogdon on him.
"I just tried to contest his shots," Brogdon said of his effort on Turner in the second half. "He's one of the best shooters in college basketball, and I think just having your hands there and active in front of him can make all of the difference."
Bennett was pleased with the second-half effort overall, but still sees a lot of room for improvement.
"I don't think we are where we need to be defensively," Bennett said. "I think we have limitations. I told the team it is about percentages, and if you can bother and contend and win the majority of the percentages. I do not think they will be perfect, but can you win the majority and outlast them as the game goes on? We have to have that mentality. We aren't going to dominate and we need to win the majority."
– Column by Chris Graham