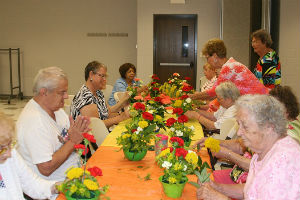 For the two dozen ERSC members and guests in attendance on June 26, the day was occupied with a lot of activity.
First, Ashton Rawley and Lindsay Orebaugh of the Rockingham County Recreation Department were on hand and offered a foam Independence Day craft project. Members carefully glued and arranged star shaped cutouts with a red, white and blue theme that was very appropriate for the upcoming holiday.
Also, Gloria Crump and Marie Frey, members of the Blue Ridge Garden Club in Elkton, brought loads of fresh miniature carnations, yarrow and greenery (see photo) and allowed members to assemble an individual flower arrangement to take home. Mrs. Crump and Mrs. Frey typically offer two workshops each year (December and June) for ERSC members, which are paid for with local Center funds.
Needless to say, members left with smiles on their faces today!
More online at www.EastRockinghamSeniorCenter.org.