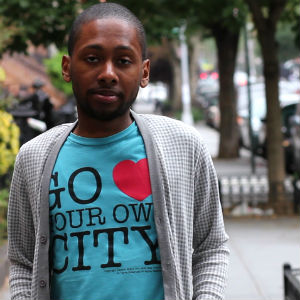 As Lifeview Marketing resumes the United Nations of Comedy Series on Saturday, April 11 at the Court Square Theater in the heart of Downtown Harrisonburg. The show will be headlined by the hilarious brother of comedian Chris Rock, Jordan Rock. You read correctly, Jordan Rock is coming to Harrisonburg, Virginia for his debut appearance in this area.
Jordan Rock is no rookie to the comedy scene. He has performed in the top comedy rooms throughout the nation, including but not limited to: New York Comedy Club, Live at Gotham, Caroline's, Comedy Strip and many others. Rock has performed with some of the biggest names in comedy and has appeared on FXX's Totally Biased with Kamau Bell, NBC's Last Comic Standing, and other national programs. As he steps out of the shadows of his star-studded Rock brothers, Chris and Tony, Jordan shows that he is more than just a name, night in and night out.
The United Nations of Comedy (UNOC) Series has brought to the market some of the hottest and funniest comedians as seen in movies and television sitcoms. The series is a spinoff of the successful UNOC Tour. The project's mission is to promote diversity through laughter by presenting a multicultural lineup on stage, which represents and serves as a reflection of the local community. If you need to laugh, love to laugh and/or want to laugh, then you must come out to see Jordan Rock on stage.
The Court Square Theater was chosen as the host venue due to its accessible and convenient location, comfortable seating and its diversification of the arts. The ample downtown parking adds to the theater's attributes. Another addition for every ticket buyer, Capital Ale House will provide 10% off of any menu items with proof of ticket purchase. Great Comedy + Great Food = A Great Night
Tickets are on sale now for only $15 for students, $18 for Chamber of Commerce members and $20 for general admission. Buy yours now by phone: 540.433.9189 or safely online at UnitedNationsofComedy.com or ValleyArts.org
Doors of the Court Square Theater opens at 7:00pm and showtime starts at 8:00pm. The Theater is located at 41-F Court Square, Harrisonburg, VA 22801. Free ample parking is available and seating is handicap accessible.