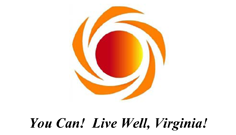 The Chronic Disease Self-Management Workshop that had been held at the Staunton Public Library concluded with five successful completers. This particular workshop began with fewer than ten people due to participating in the Rapid Change Cycle Assessment to study the outcomes and effectiveness of smaller workshops.
Participants provided much positive feedback, sharing that they had learned a great deal from both the workshop content and from each other. The recurring theme was that it was helpful to realize they were not alone and that their chronic condition does not need to define who they are; there are still many things they can do even if life is different than it was.
Other areas they learned more about included the importance of drinking adequate amounts of water, eating generous portions of fruits and vegetables, and getting regular exercise.
More online at http://ValleyCDSME.com.