And apparently, I'm on an island of one on this, but no, I'm still not sold on the job that Tony Bennett is doing at UVa.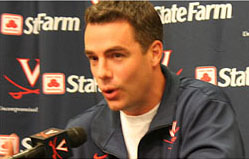 I say that conceding that this year could be a monster year for Bennett's Cavs, who were ranked in the Associated Press Top 25 preseason poll today, the first preseason ranking for Virginia since 2001. The stars seem aligned for UVa. basketball, with the core of Joe Harris, Akil Mitchell and Justin Anderson being supplemented by transfer Anthony Gill and the return of point guard Malcolm Brogdon.
And that's not counting the continued improvement of big man Mike Tobey and the arrival of heralded guard recruits Devon Hall and London Perrantes.
Oh, yeah, this should be a loaded Cavs team.
But that said, eh …
This is year five of the Bennett regime. We have one NCAA Tournament game to show for the first four years, a blowout first-round loss to a pretty good Florida team. Virginia still hasn't played on a Saturday at the ACC Tournament since 1995, laying a big ol' egg in March as the #4 seed that left for Greensboro on one side of the NCAA bubble, and left on the outside looking at an NIT berth.
UVa. made a decent run in the 2013 NIT, giving Bennett and his program something to build on for the upcoming season.
And you can tell what the coach thinks of his squad this year just based on what he did with his nonconference schedule, which he kept light last year with a young team that maybe wasn't up to big tests early. That light nonconference schedule was what kept Virginia out of the NCAAs, but that won't be an issue this year. Virginia opens with JMU and VCU, both NCAA Tournament teams in 2013, and VCU being a fellow member of the preseason AP Top 25.
A home game with Wisconsin and a road game at Tennessee will get the 'Hoos ready for the ACC, which adds Notre Dame, Pitt and Syracuse to the mix for 2013-2014.
The writers have Virginia fourth in the ACC in their preseason rendering, behind Duke, 'Cuse and North Carolina.
High expectations. This will be the first year that Virginia under Bennett enters a season with this level of expectation. Thinking about it, it will be the first year dating back to maybe that 2001-2002 season under Pete Gillen when a UVa. basketball team enters a season with any kind of expectations.
I'm hoping to see this team rise to the level of expectations, but I'm still waiting to be sold on that.