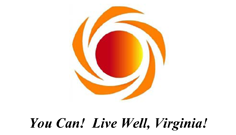 A new Diabetes Self-Management workshop series began on April 3 in the Buena Vista-Lexington-Rockbridge Region, led by Jonni Lyle, Maury River Senior Center Director, and Jeri Schaff, BLR RD.
Held at Carilion Stonewall Jackson Hospital, the group had six participants for the first session; two of those individuals brought a friend to the second session, so there are now eight in the group. One individual has vision limitations that prevent him from being able to read; CDSME Coordinator Joyce Nussbaum obtained a copy of the reference book used in the workshop on CD to loan to this individual.
More online at http://ValleyCDSME.com.