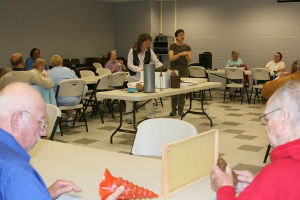 Three representatives from the Page County Beekeepers Association – Susan Finlay, Melissa Clark and Len Clark – brought lots of gear and supplies used in beekeeping and provided a great deal of intriguing information to the 22 East Rockingham Senior Center members and three guests in attendance on May 6.
While the weather was much too cold and damp to bring bees (safely enclosed for viewing) to the Center, they talked about how they became interested in beekeeping, the costs to begin a hobby such as this, and the many uses of honey. There were many questions from the audience during their nearly hour long talk, and the trio agreed to visit the Center in the near future and bring along bees and also some food items made with honey.
This was the first visit by anyone participating in this type of hobby.
More online at www.EastRockinghamSeniorCenter.org.