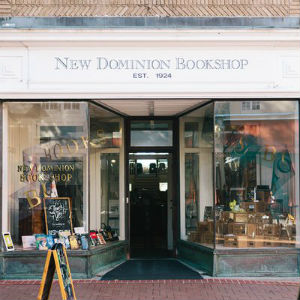 New Dominion Bookshop in Charlottesville will host a book talk and signing with Soraya Chemaly, author of Rage Becomes Her: The Power of Women's Anger, on Wednesday, Dec. 5, from 7:00 PM to 8:00 PM. This event is free to attend.
Women are angry. In an environment that pervasively tells us we are less than, it isn't hard to figure out why. We are underpaid and overworked, thwarted and diminished. We are too sensitive, or not sensitive enough. Too dowdy or too made-up. Too big or too thin. Too slutty or too prudish. We are harassed, told we are asking for it, and asked if it would kill us to smile. We are mad as hell—and that's completely okay.
Because contrary to the endless barrage of self-help rhetoric, the reality is that our rage is the most important resource we have as women, our sharpest tool against both personal and political oppression. It's time to reframe this part of us that we've been told for so long is negative, something to bottle up, letting it corrode our bodies and minds in ways we don't even realize. We are told to resist our rage, but how many remarkable achievements in this world would never have gotten off the ground without the kernel of anger that fueled them? Anger is not what gets in our way. It is our way. All we need to do is own it.
Rage Becomes Her: The Power of Women's Anger, by award-winning writer and activist Soraya Chemaly, is a timely conversation-shifting book urging 21st century women to understand their anger, embrace its power and use it for positive change. "Anger is our natural reaction to perceived injustice," writes Chemaly. "It is a tool like any other, which means not being proficient with it puts us at a major disadvantage, and often in harm's way." Through a combination of priceless stories, rigorous research and interviews with women of all backgrounds, the author argues for a fresh conception of one of our core emotions.
About the author
Soraya Chemaly is an award-winning writer and activist whose works focuses on the role of gender in culture, politics, religion, and media. She is the Director of the Women's Media Center Speech Project which aims to curb online abuse, increase media and tech diversity, and expand women's freedom of expression.
After occupying various leadership positions in corporate marketing and founding her own consulting firm, she returned to her writing and advocacy work full time. Her articles appear frequently in Time, The Guardian, The Nation, HuffPost, and The Atlantic. Follow her on Twitter at @schemaly and learn more at sorayachemaly.com and WomensMediaCenter.com.